Why choose a marketing website
Views:0 Author:Site Editor Publish Time: 2016-07-18 Origin:Site Inquire
The marketing website integrates marketing ideas, methods and skills into the website planning, design and production of the website. It is the entire network marketing model of the integration of enterprise website construction and operation and maintenance. Its goal is to obtain sales leads or direct orders.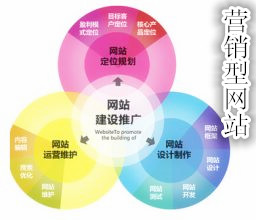 The marketing website is different from the ordinary website. The establishment of the ordinary website is to let the people of their own company look, not to let the customers look. The website establishment considers what we need from a self perspective; and the establishment of the marketing website stands on the customer's Think from a perspective and see what the customer needs.
Ordinary websites are aimed at building websites, and generally do not have professional customer service, nor do they care about website traffic and conversion rate. The marketing website will pay more attention to the entire process of website operation management, and he can attract the attention of target consumers through website optimization and let them produce consumption intentions. And marketing websites are mainly based on traffic from natural search, with a high conversion rate, and reduce the expenditures that companies pay to help websites rank on the front page of search engines.
Although the cost of establishing a marketing website is higher than that of establishing an ordinary website, for foreign trade enterprises and online websites that rely on Internet experience, marketing websites are undoubtedly a more cost-effective choice.