What is a responsive website? What are the advantages of a responsive website?
Views:0 Author:Site Editor Publish Time: 2016-07-19 Origin:Site Inquire
Almost every website construction hopes to have a dedicated mobile device version. The perfect situation is to create one for iPhone, iPad, BlackBerry, Kindle...-the page resolution must also be compatible with any device. Who knows how many more newly-invented device designs and pages we need to develop in the next five years? So this idea is simply not possible. It is under such circumstances that the responsive wed design appeared.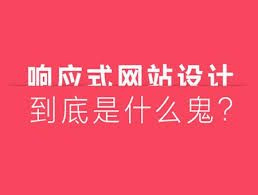 (1) What is it
The concept of responsive web design is: centrally create the page layout size of the page, and can intelligently perform the corresponding layout according to the user behavior and the device environment used.
The responsive website adopts the world's most advanced HTML5+CSS3 technology, combining the characteristics of brand websites and marketing websites into one. It can automatically identify screens such as computers, mobile phones, tablets, etc., truly achieving one station and multiple uses. Enterprises build responsive websites Has become an inevitable trend.
(2) Advantages
On the one hand, it ensures that the page elements and layout have sufficient flexibility to be compatible with various device platforms and screen sizes; on the other hand, it enhances readability and ease of use, helping users to be more easily in any device environment Get the most important content information.
If you have any questions, please contact us: 400-0430-678.