When we talk about foreignWhat are social mediaAt the time, most people's first reactions were Facebook, Twitter, LinkedIn, Pinterest, Google+, Instagram.

But they are justSocial media softwareOr the name of the platform. In fact,social mediaThe term is very broad. Wikipedia defines it as a virtual community and online platform for people to create, share and exchange ideas, opinions and experiences.
According to this definitionforeignsocial media, I think it should be divided into the following categories.
what isForeign social media? I think it can be divided into the following six types.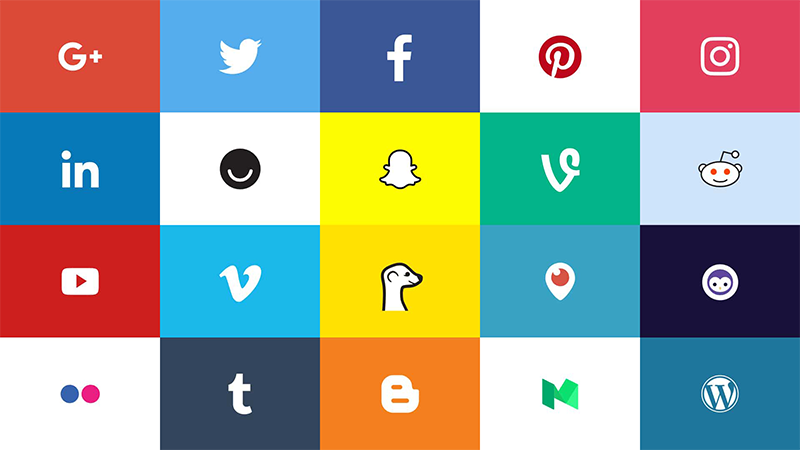 1. Cooperation plan

Example: Wikipedia
Wikipedia (Wikipedia) is a multilingual encyclopedia collaboration program based on Wiki technology, which is the most popular reference material on the Internet.
Wikipedia is a free encyclopedia on the Internet, why it has so much content, because it is written online by volunteers.
Since its establishment in 2001, Wikipedia has rapidly developed into one of the largest reference sites. As of September 2015, there were 374 million unique visitors per month.
Approximately 70,000 active contributors have written more than 41 million articles in 294 languages. As of today, there are 5,429,529 English articles.
Every day, thousands of visitors from all over the world co-author thousands of editorials and thousands of new articles to increase the knowledge possessed by Wikipedia.
Unlike Baidu Encyclopedia, Baidu Encyclopedia has become a tool for commercial promotion, and many people with no levels have also edited it, resulting in a decline in quality. Wikipedia is highly authoritative. Imagine that if your company or product appears on Wikipedia, it does not mean that it is recognized.
In this way, you can not only find peer information on Wikipedia, but also analyze SEO keywords and create content to increase brand awareness and influence.
2. Blog or light blog
For example: wordpress, tumblr
About WordPress, you may not be familiar with it. My previous article introduced a lot of content. It is the most widely used open source CMS program in the world. Users can set up their own websites on servers that support PHP and MySQL databases.
A quarter of the world's websites are made using WordPress. It was originally a personal blog system and evolved into a content management system software.
You can use it to build any website you want, such as foreign trade website (B2B company website, B2C mall), forum, community, blog, etc.
You may know too little about tumblr. Tumblr was founded in 2007 and is currently the ancestor of the world's largest light blogging website and light blogging website.
Tumblr is a new media form between traditional blogs and Weibo. It emphasizes expression, socialization and personalization. It is one of the most popular social networking sites for young people.
Tumblr is very focused on customization and ease of use, so the registration/login page is extremely simplified, and members can change seven types of content.
Tumblr's homepage is \"Dashboard\", members can click \"like\" or \"forward\" articles, similar to twitter.
The user experience of tumblr is very good, 85% of users are willing to stay on tumblr, far higher than 40% of twitter. In addition to publishing content in tumblr, it also supports bookmarklets, emails, AIM chatbots and even phones.
Tumblr can automatically synchronize content to Facebook and Twitter. Domain name binding is also a major feature. Members can use their domain names to publish articles. If you write a lightweight blog that customers like, it will definitely deepen your relationship.
3. Content community
For example: YouTube, vimeo
YouTube is the world's largest video website, with a lot of traffic and viewers, and more than 1.325 billion people use YouTube.
Currently, 300 hours of video are uploaded to your YouTube every minute, and the amount of video played per second is about 5 hours of video content. Its powerful numbers indicate everything. Google's acquisition of YouTube is one of the ranking factors for Google's search engine optimization.
Many people may not know that the flow and appeal of video is greater than pictures and text. If your company's products are not limited to sample introductions, if you can use video introductions, it must be very attractive, which is why so many people have to do video marketing.
Vimeo is a platform for hosting videos. It may not be familiar to many people, but Vimeo has many loyal fans on the other side of the ocean.
Vimeo has long been the second most popular video sharing site for readers, after YouTube, allowing users to upload, share, store videos and allow users to comment on videos.
Registered users must upload first. Registered users can create profile pages, upload avatars, comments, vimeo and youtube, upload faster, support high-definition and unlimited length.
4.Social media software or platform
For example: Facebook, Twitter, LinkedIn, Pinterest, Google+, Instagram
Social media software or platforms are the most important part of social media and everyone uses them every day.
The mainstream social media software is Facebook, Twitter, LinkedIn, Pinterest, Google+, Instagram, and Snapchat.
They all have good user viscosity and have changed our search habits. Previously, shopping mainly asked friends and family. With the arrival of search engines, they went to Google, Baidu search, and now they become FB. Q: Chinese people like to go to Weibo and WeChat. Suggestions about social media software may play a decisive role in shopping. That's why you want to do it for foreign tradeSocial media marketing。
5. Virtual game world
For example: World of Warcraft, League of Legends, Jedi Survival
Many games in the 70s, 80s and 90s were familiar with these games. For their obsession, CCTV uses addiction to describe it.
Why are you addicted, because they are role-playing games that interact with and interact with other players during the game, and many people turn friends in the game into friends in real life.
If you like to play games, try playing games on foreign servers. Not only can you practice English, you can also make friends, add FB fans, and also promote some business
6. Virtual social world
For example: second life
The second life game has been around for 14 years and is still strong today, with hundreds of thousands of active users every month. Just like its name Second Life, it is a very popular online virtual game in the United States.
In the game, players can do many real-life things, such as eating, dancing, shopping, singing karaoke, driving, traveling and so on. Through various activities, players from all over the world can communicate with each other.
Second Life is an online game+Social network+ Web 2.0 combination. There are also some software similar to Second Life in China, among which HiPiHi, uWorld and Novoking are very famous.
After reading today's article, if you mention it againsocial media, You still only answer facebook, then you are really OUT.
social mediaThere are many, and the most direct use of foreign trade isSocial media software, But other social media are also new ideas. Please do social media marketing when you are on the website, so you can get double the revenue.