Website construction is now very popular with H5 technology, which is more concise and convenient for the website to be included by search engines.
H5 is the fifth revision of the HTML standard by the W3C. Its main goal is to semanticize the Internet in order to be better read by humans and machines, and at the same time provide better support for the embedding of various media. H5 is actually not a new technology, but a guideline for HTML reformulation and modification.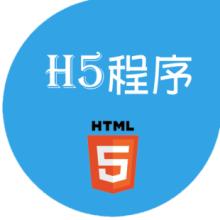 H5 is more convenient and free in the content construction of the website. The website built by H5 has more dazzling visual effects, allowing static pages to move and improve user experience; with new tags, website construction can better customize content; can play videos directly without installing FLASH; website pages are concise , Responsive website is conducive to search engine inclusion; the website can achieve multi-device cross-platform operation.
The website constructed by H5 technology is conducive to website optimization.
The website built by H5 is a responsive website. The website pages have more free design solutions. Excellent design solutions can bring customers a higher access experience. More convenient media usage is also a website that customers prefer H5 to make.
The H5 construction website is not only rich in content, but also the loading speed of the webpage is very fast. The video animation loading of traditional websites not only needs to load FLASH but also takes up a lot of website space, slowing down the loading speed of the website.
But now if you build a website with h5, it will not only make the website rich and exciting, but also reduce the impact on the page loading speed.
H5 construction site is good for spider crawling. The H5 site building code is more concise than the traditional site building code, and a simple code can achieve complex effects, which is also very beneficial to spider crawling.
H5 construction website is more compatible and can run across platforms. Traditional site building code compatibility problems always appear, either this browser cannot run or other browsers have problems. The responsive website made by H5 code can be adapted to the latest version of all browsers, which not only frees up technicians, but also avoids the problem of users who use different browsers seeing misplaced pages. Previous browsers may not recognize H5 Code. The website built by H5 can realize cross-platform and cross-device operation, and the website on multiple devices has only one background, which reduces the space for search engines and will also be included in priority. People use such websites more freely and conveniently.
H5 website construction technology has been relatively perfect, and has become popular, which is conducive to the optimization and promotion of the website, is now the best choice for website construction.