Those things included in the new website Baidu
Views:0 Author:Site Editor Publish Time: 2016-08-10 Origin:Site Inquire
After an enterprise builds a website, it is hoped that the website will be quickly included by Baidu, but often it cannot be achieved. The inclusion of Baidu in a new website requires some promotion skills.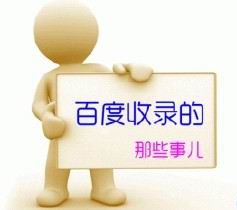 1. The domain name of the website.
The domain name of the website must be consistent with the theme of the website, so that you can use Baidu's reputation evaluation of the website to improve the speed and score of the website's inclusion by Baidu.
2. Soft text marketing.
This is the main promotion method of the website. It was reprinted by major websites, so the traffic of the newly built station was close to 10,000 a month, and the external links reached 1,000. Create Baidu space. Generally speaking, the created Baidu space can be included in a few days; post a reply in Baidu know; create a new entry in Baidu Encyclopedia, Baidu Encyclopedia search in Baidu has the same weight as Baidu knows the column, the new entry created Add website address and connection in; use popular forums and blogs to publish some articles.
3. Internal link strategy.
Links are divided into external chains and internal chains. Most seo people pay attention to external chains and pay little attention to internal chains. Here I tell you that internal chains are also very important. A reasonable external link makes it easy for Baidu to crawl other pages of the website along the internal link.
4. External link strategy.
In the early stage of website construction, if the company station can send some money to buy links to websites with high pr value, this effect is very good, which is beneficial to the inclusion of Baidu for the new station company station. Of course, if you don't want to buy links, you can try to link your website to a high pr value, which is a bit difficult for a new station with a pr value of 0.
5. Search the name and domain name of your site on Baidu.
Search the name and domain name of your site frequently on Baidu, which is very useful for Baidu's related searches, and it is easy to remember the keywords of your site.
Promote Baidu's newly built website to Baidu by tricks.