The scope of network-wide marketing
Views:0 Author:Site Editor Publish Time: 2016-07-25 Origin:Site Inquire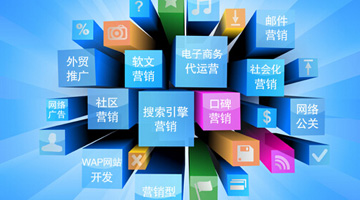 1. Web Search(Baidu, Google)And image search(Search engine, product image)
Improve the ranking of keywords in search engines, increase the amount of enterprise websites included in mainstream search engines (Baidu, Google), so that when customers find related products in the search engine, enterprise information can quickly and clearly appear in front of customers. The keywords are displayed in the search engine in the form of pictures, and the pictures of the products are placed in front of the users' eyes to attract customers' attention and bring opportunities to enterprises.
  2. Social Network(Weibo, WeChat, etc.),Portal media(Sina),Video platform(potato),information platform(Encyclopedia)
The development of social networks has attracted attention and brought unlimited business opportunities to merchants. On the premise of not damaging the public interest, news marketing uses hot news to attract the attention of the public to achieve the purpose of product sales. Promotion on video websites and information platforms is an important method of promotion.
 3. Share shopping(Beauty said, Mushroom Street),B2B, B2C platforms(Taobao, Paipai, Jingdong, etc.)
Related shopping platforms provide complete shopping sharing functions. Global B2B e-commerce transactions have always dominated and the market is huge. The B2C platform is dominated by third-party malls.
 4. Advertising(Website, software, e-magazine)
The effectiveness of online advertising is becoming more and more important. Many advertising companies have set up a special \"Internet Media Division\" to open up a huge market for online advertising. But at the same time as advertising, we must pay attention not to destroy the overall social atmosphere, pay attention to user experience, and stop customers from adding advertisements when they browse the web or watch videos.
 5. Member Management(Customer analysis, user experience)
With the popularity of the Internet, membership marketing is becoming more and more important in the development of enterprises. Membership management system helps companies understand customer needs, improve user experience, and then change their own shortcomings, improve the loyalty and conversion rate of old customers, and then increase sales.