Enterprise's official website marketing platformIs throughWith the H5 responsive official website platform as the core, with the purpose of promoting brand image and introducing information flow, multi-channel integrated marketing based on customer needs and habits,Turn customer attention to the company's own brand。Position potential customers precisely, quickly increase the number of high-quality customer enquiries, and comprehensively improve the promotion conversion rate. Build a dedicated e-commerce platform, bring a large number of visits through all-round multi-channel marketing, effectively expand the market, enhance the brand image and competitiveness, let customers fully understand the company and products through the website to issue one-to-one inquiry, effectively get rid of the tradition B2B group inquiries and group complex quotations are bothering, avoiding vicious price competition and improving the quality of inquiries. Break the traditional model of over-reliance on the B2B platform \"borrow a ship to the sea\", achieve your own \"commercial aircraft carrier\". Perfect user experience, same traffic, more enquiries. Enterprise-specific e-commerce aircraft carrier;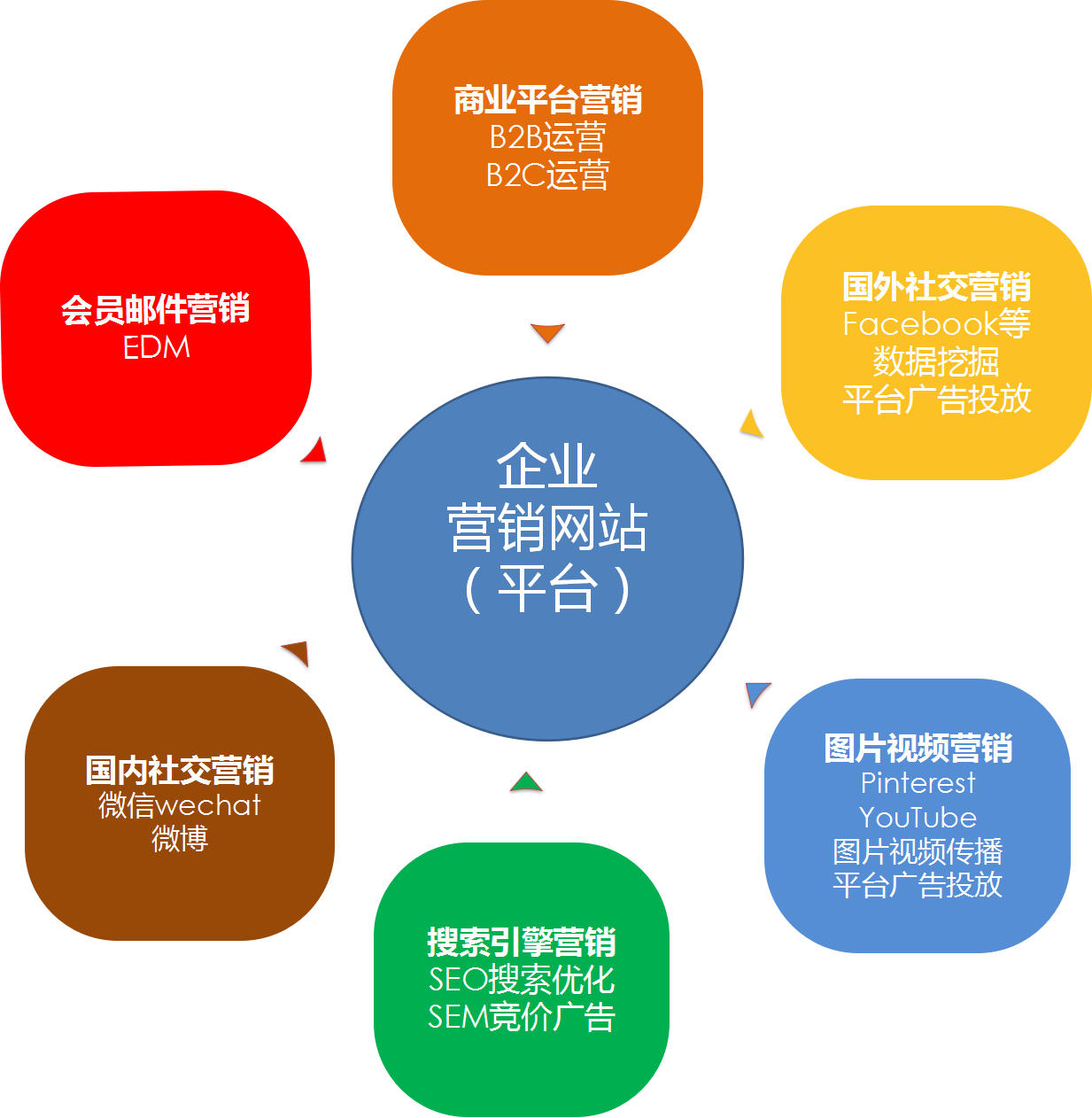 First, the first tool leads:
A Responsive design automatically responds to the user experience of all screens on the PC and mobile
According to the type of visitor's device, automatically adjust the page layout to adapt to various screens of different sizes such as computers, tablets, mobile phones, Internet TVs, etc., no longer need to develop multiple versions for various devices, so that your website is on computers, tablets, mobile phones Have a smooth experience on the Internet, making it easier for potential customers to find you. (Can scan the actual experience)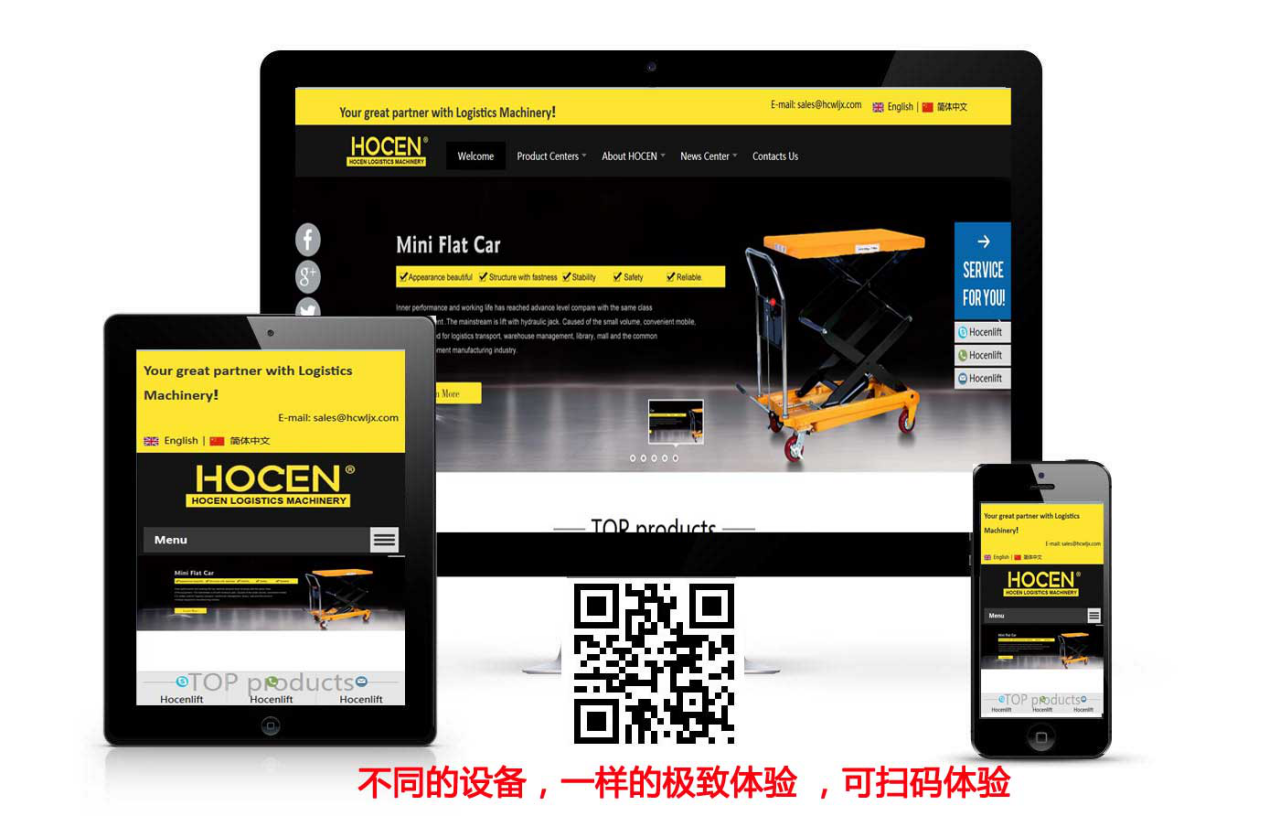 second:.To cater to the search engine architecture design, make search engine optimization SEO easier
PerfectSEO search marketing technology system, no code operation interface; multilingual independent SEO, optimization and unlimited promotion; advanced responsive design, more in line with search rules, Baidu, Google priority inclusion, ranking more handy,Achieve full coverage of major search engines, let customers find you the first time.
Social media + official website platform
But this is far from enough. It needs more exposure to let customers pay attention to you and choose you to direct traffic to your official website. This comes to the application of social media behind!
More efficient social platform marketing-linkedin- LinkedIn
Facebook, Twitter,LinkedIn, Google+,WeChat, Weibo, one-click sharing, spread the world, no need to log in separately, saving time and effort.
Whether it is a visitor, a customer, or an enterprise operator, it can be shared with one click and spread quickly;
Whether it is a front-end page or a management background, it can be connected to major mainstream social platforms with one click, efficiently and quickly spread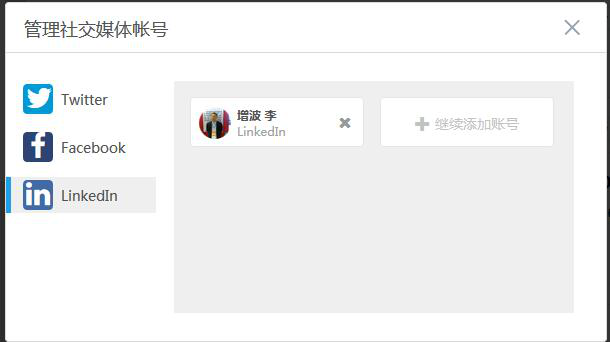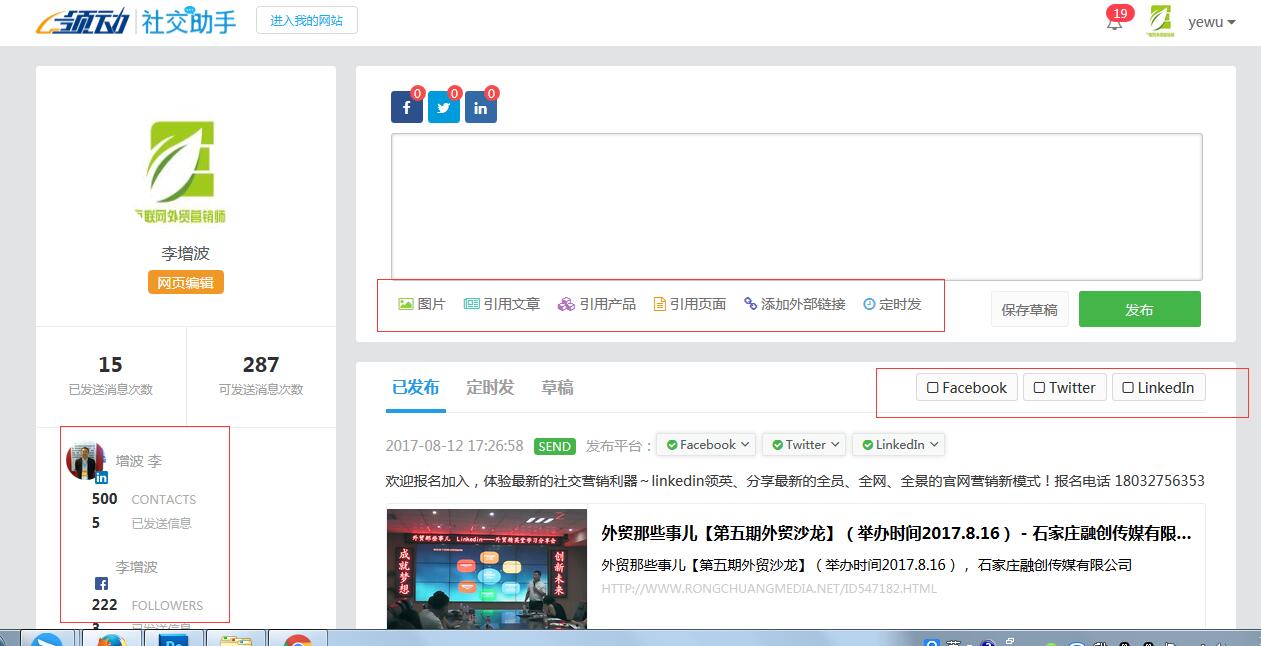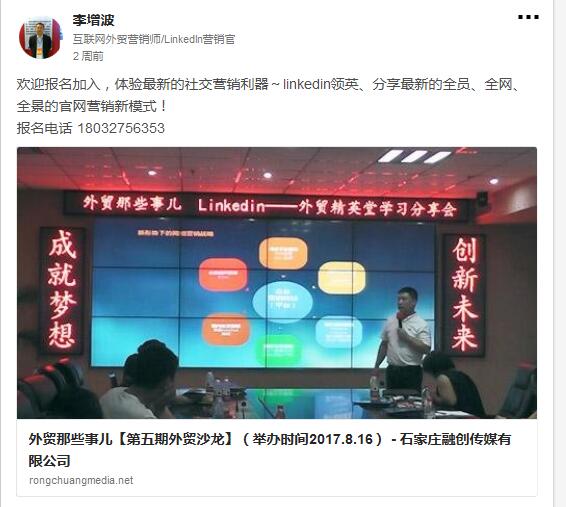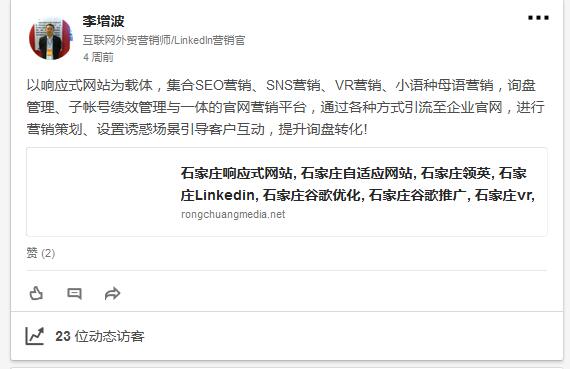 At the same time, it drains back to the company's official website, increasing official website traffic and improving conversion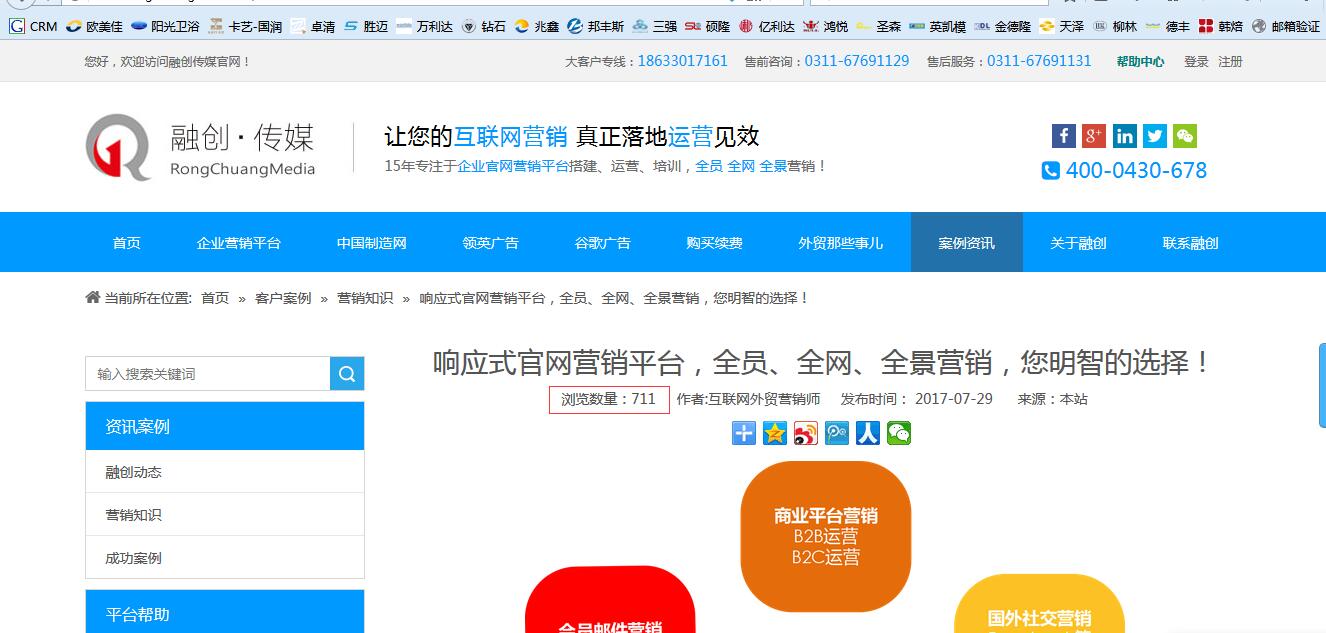 Third, a strong R&D team and excellent technology

technology R & D:Focus Technology Co., Ltd. (stock code:002315)
Focus Technology Co., Ltd. was established inJanuary 9, 1996, is a leading integrated third-party B2B e-commerce platform operator in China, focusing on serving the global trade field, and has more than a decade of success in helping Chinese SMEs use the Internet to carry out international marketing and product promotion experience. After years of sustained and high-speed development, Focus Technology has strong capital, technology, talent accumulation and market operation strength, and successfully logged on the SME version of the Shenzhen Stock Exchange in 2009. With the gradual deepening of e-commerce applications in China and the gradual integration of informatization and industrialization, Focus Technology has been recognized as a \"key software enterprise in the 2010 national planning layout\", and has gradually established a technology with excellent technology and good at innovation Technical team and a set of standardized and perfect service system.
Leading Cloud Marketing Platform (Trademark: Leading), responsive website-building marketing platform, enterprise internetizationSaaS service providers, relying on the SaaS cloud platform, featuring \"full-screen marketing+search marketing+social marketing+net-wide e-commerce\", help companies quickly and comprehensively use the latest web development and marketing technologies such as HTML5, Establish a useful, easy-to-use and independent enterprise Internet marketing platform. The enterprise Internet marketing platform covers the establishment of HTML5 responsive websites compatible with various network terminal screens, search engine marketing, social platform marketing, whole-network e-commerce and other effective functions, and is closely connected with B2B platform marketing.
Leading team owned20 years of in-depth understanding of the essence of Internet marketing has accumulated profound experience in Internet innovation and operation, invested tens of millions of funds, spent several years, and strived to build a leading cloud marketing platform. Driven by advocating \"Internet+Operation\" concept and \"Internet+Brand Marketing\" strategy as the driving force, it forms a closed loop of Internet marketing from concept to realization to profit, improves marketing efficiency and effectiveness, and improves operating income. Effectively help enterprises cope with the innovation test of upgrading and transformation, and win at the starting line of \"Internet + Brand Marketing\".
Led by Focus Technology Co., Ltd. (stock code:002315) The research and development operation of its subordinate leading business department, its brand trademark is held by Focus Technology. Won the \"China Golden Software Best Product Award\", \"China Foreign Trade Enterprise Information Management Best Solution Award\", \"Manufacturing SaaS Product Innovation Award\" and other awards, at the end of 2015, lead\" The trademark was identified as \"\"Famous Trademark of Jiangsu Province\".
Fourth, the partner-Sunac Media
Sunac Media Group was established inYear 2003In March, the company focused on comprehensive services of foreign trade enterprises. It is a professional service provider of comprehensive services for domestic foreign trade enterprises. It has a strong information service and foreign trade service team. The company has 109 employees and 53 people engaged in information technology research and development and foreign trade services. 9 managers, 47 foreign trade consultants. There are a variety of customized service products for import and export enterprises such as NetEase Bao, Wangxinbao and Wangrongbao.
Over the years, the company has been committed to providing export enterprises with comprehensive professional foreign trade services. And independently established Hengshui Fuhong International Trade Agency Service Co., Ltd. in Hengshui, Hebei Province. Relying on various resources of the group headquarters to strengthen localization services, the company has a perfect organizational structure and brings together a group of experienced and ideal foreign trade elites and full of inspiration With innovative senior talents, it has accumulated mature technology and rich practical experience in overseas service for customers in helping export enterprises to carry out import and export trade and implement e-commerce.