How to add Outlook 2010 email account for the first time
1. The first time the customer starts Outlook, the following interface will appear, and then click \"Next\";




2. Customers who want to set up an email account can choose \"Yes\" and then click \"Next\";




3. Click to select \"Manually configure server settings or other server types\", then click \"Next\";




4. Select \"Internet E-mail\" and then click \"Next\";




5. Enter the user information, server information and login information in the pop-up window, select \"Remember Password\", and then click \"Other Settings\"

Set\". Among them, \"Account Type\"Select\"

POP3

\"(You can also choose according to your needs\"

IMAP

\", the settings are similar), then

后
Click \"Other Settings\";
note:

1) The content of the server information is: POP+\".\"+ your company's corporate domain name, for example, the domain name of the three-five interconnection company is

35.com, therefore, the server information here is filled in POP.35.com.

2) The e-mail address under the user information and the user name of the login information should be filled in the same and should be the full name of the e-mail address, for example

As shown in the figure below test@35.com, not test;


6. In the pop-up window, select \"Outgoing Server\" from the upper tab bar, select \"My Outgoing Server\" in this interface

(SMTP) requires authentication (O)\", select \"Use the same settings as the incoming mail server (U)\" in the authentication type below, and then click

Click \"OK\";




7. (Optional) You can select \"Advanced\" from the upper tab bar, select \"Keep copy on server\" in this interface

Then click \"OK\" (
PS: If the client is used for sending and receiving abroad, the sending port number needs to be changed to 26 or 465. user

Fill in the 465 port number, remember
You have to check SSL encryption
);


8. Then click \"Next\";




9. Then the test interface of account setting will appear. After passing the test, click \"Close\";




10. Finally, the interface of successful setting will appear;


How to add Outlook 2010 email account for the first time
1. Open Outlook and click \"File\";




2. Click \"File\" to go to the following interface;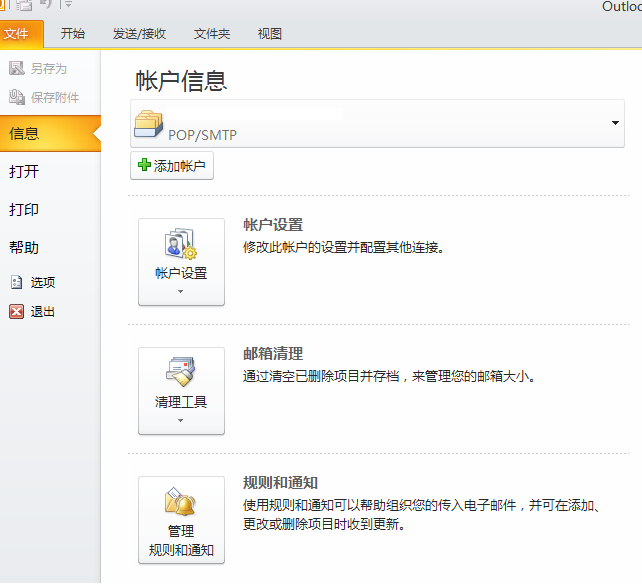 3. Click \"Account Settings\";




4. In the pop-up window, click \"New\" under \"Email\" column;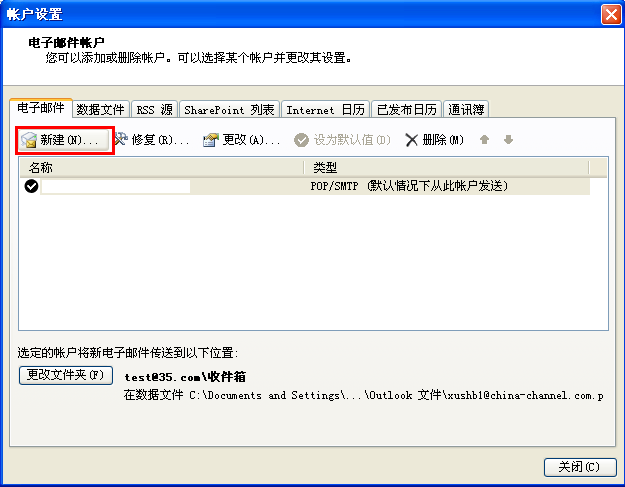 5. Click to select \"Manually configure server settings or other server types\", and then click\"Next\";




6. Select \"Internet E-mail\" and then click \"Next\";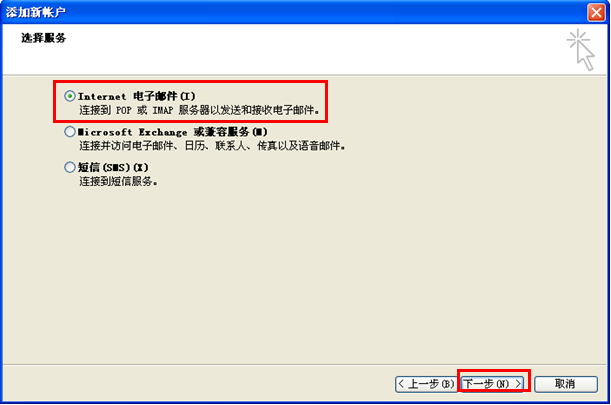 7. Enter user information, server information and login information in the pop-up window, select \"Remember Password\", and then click \"Other Settings\"

Set\". Among them, \"Account Type\"Select\"

POP3

\"(You can also choose according to your needs\"

IMAP

\", the settings are similar), then

后
Click \"Other Settings\";
note:

1) The content of the server information is: POP+\".\"+ your company's corporate domain name, for example, the domain name of the three-five interconnection company is

35.com, therefore, the server information here is filled in POP.35.com.

2) The e-mail address under the user information and the user name of the login information should be filled in the same and should be the full name of the e-mail address, for example

As shown in the figure below test@35.com, not test.


8. In the pop-up window, select \"Outgoing Server\" from the upper tab bar, select \"My Outgoing Server\" in this interface

(SMTP) requires authentication (O)\", select \"Use the same settings as the incoming mail server (U)\" in the authentication type below, and then click

Click \"OK\";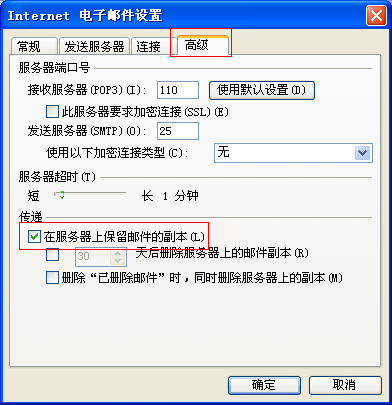 9. (Optional) You can select \"Advanced\" from the upper tab bar, select \"Keep a copy on the server\" in this interface

Then click \"OK\";




10. Then click \"Next\";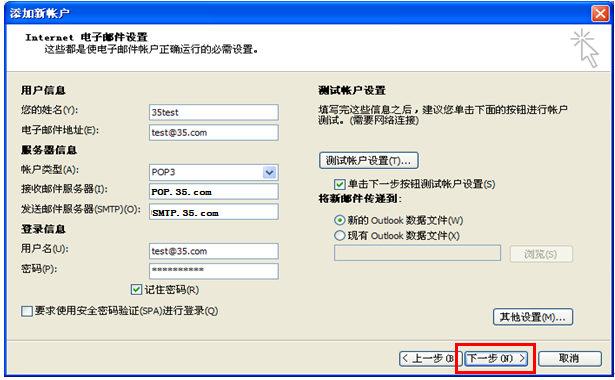 11. Then the test interface of account setting will appear, click \"Close\" after passing the test;




12. Finally, the interface of successful setting will appear.