How to use the sharing component?
Views:0 Author:Site Editor Publish Time: 2016-06-28 Origin:Site Inquire
share it

[Introduction to components] The sharing component enables one-click sharing to mainstream social platforms at home and abroad. Currently supports sharing to WeChat, Sina Weibo, Tencent Weibo, QQ Space, Renren, Douban, Google+, LinkedIn, Twitter, Facebook and other mainstream Social sharing platform.

[Application scenario] The sharing component is generally placed in the header or footer of the website, so that each page can share this component. The sharing component can choose a variety of display styles (the default icon itself color is moved up to brighten, the default gray icon is moved up to change the icon itself color, the default black icon is moved up to change the gray icon, etc.), and the size of the shared icon can be set (supported 24px, 32px, 48px, 64px multiple icon sizes), icon shapes (square, rounded, round), icons and text typography style, etc., fully realize the personalized display needs.

【Instructions】

1. How to add sharing components?
Step 1: Find the \"Add Component\" entry. Place the mouse where you want to add the shared component, a small water drop (that is, add component button) appears, click the small drop, and the \"Add component\" pop-up box will pop up;

Step 2: Set up and add sharing components. In the basic components, find the \"Share\" component, click it, and the \"Set up sharing button\" pop-up box pops up. Here you can enter the title of the component, click the button you want to select it in \"Share List\";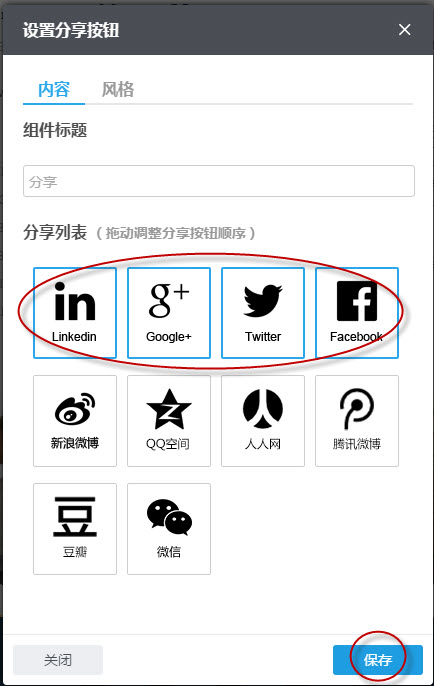 Then, click \"Style\", where you can choose icon style, choose icon shape, choose layout style, choose icon size, and then click \"Save\" to add a share button;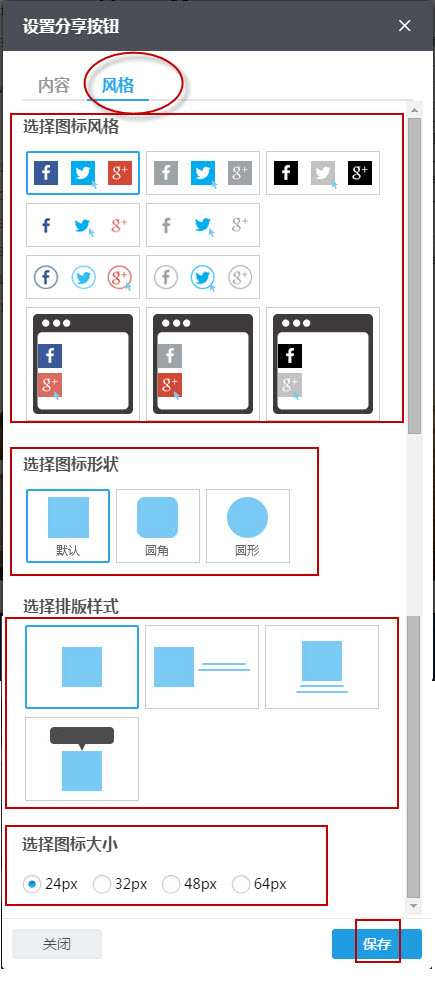 Step 3: Save the above operation. This step is very important. After all the above are set, click the save button in the upper right corner of this page. If you want to publish to the front desk of the website, you can click the \"publish\" button in the upper right corner.

After setting the above settings of the component, you can use the following functions of this component as needed. The following are the common functions of all components:
3. View

How to edit the style of a component

?



4. View

How to copy components?



5. View

How to apply components?



6. View

How to remove components?



7. View

How to restore components?