How to increase the inquiry response rate
Views:0 Author:Site Editor Publish Time: 2016-07-16 Origin:Site Inquire
In foreign trade sales, the inquiry response is like giving a first impression. We know that the first impression is very important for judging this person, and the same is true for enterprises. Therefore, if we want to highlight the encirclement among many enterprises, we must improve Inquiry response rate, that is, it is important to reply to the customer's first email.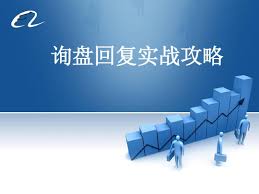 There are a few tips when replying to customer emails. We usually pay attention to: First, the professionalism of the reply. Before we reply to customers, we must first have a full understanding of the product. Second, make \"highlights\". To impress our customers, we need to be more personalized and more professional. There are mainly the following aspects: (1) Present some clear pictures to customers, and to display in multiple directions, it is best to treat the photos as a silent salesperson. (2) Professional quotation: develop personalized quotations according to customers in different regions, countries and identities. (3) Company introduction, clearly listing the company's scale, exhibitors, well-known customers, R&D capabilities, and certification will deepen the customer's understanding of the company. (4) Set up a signature file: Make your company's address, phone, MSN, website, email, and company logo as a signature file, highly reflecting professionalism. Third, pay attention to politeness. Specifically, from these aspects,
(1) Format specification.
(2) The theme is clear.
(3) Polite tone.
(4) There should be no errors in word grammar, and at the same time ensure that the article is concise and clear.
First of all, let customers not resent your emails, and then there will be opportunities for further communication, and there will be the possibility of successful sales. For more information, please contact us: 400-0430-678