How to do a good job in Shijiazhuang foreign trade website
Views:0 Author:Site Editor Publish Time: 2016-08-16 Origin:Site Inquire
my country has entered the era of e-commerce, and the development of the foreign trade industry is also showing a rising trend. Most traditional enterprises have begun to enter the foreign trade army. Of course, the production of foreign trade websites has become the pioneer of these enterprises to enter the overseas market. Hebei Rongchuang Media Co., Ltd. adhering to \"Building the first brand of Internet foreign trade comprehensive services, allowing customers to enjoy the perfect one-stop service\", as a good helper of foreign trade enterprises, we will help you to surpass your opponents through Internet marketing and get greater Success.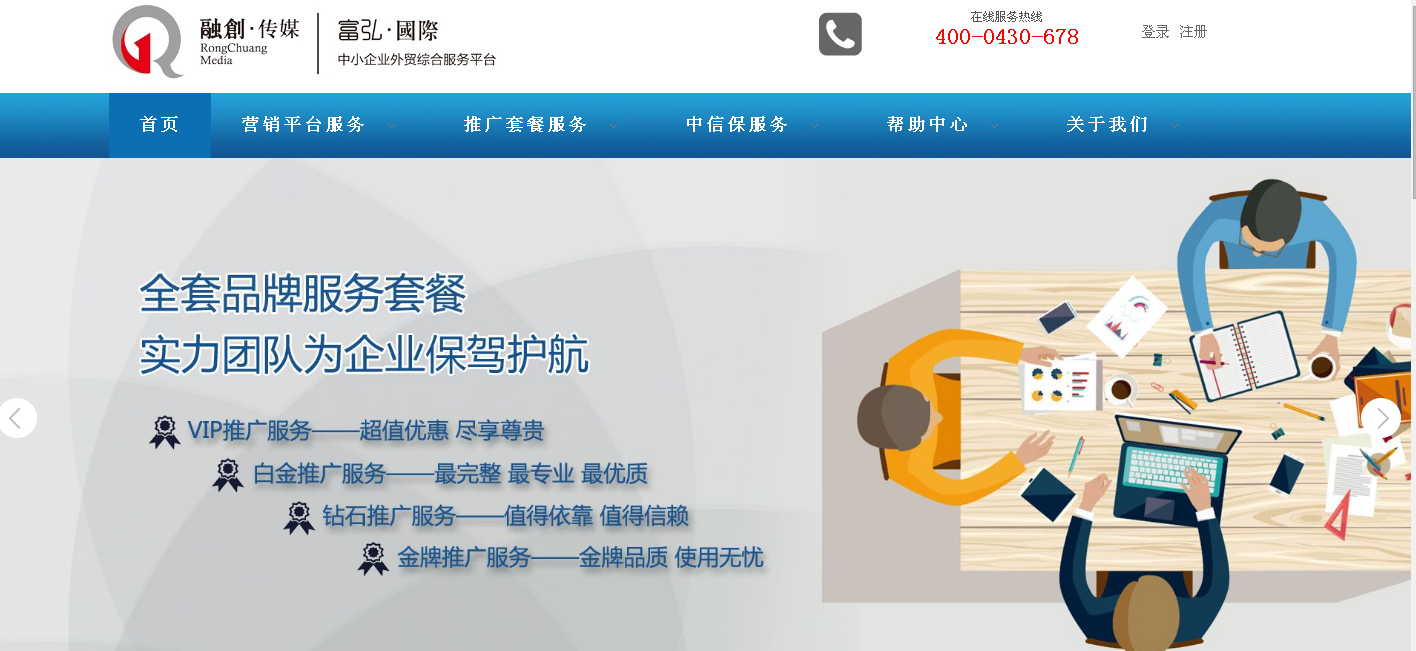 The foreign trade industry has similarities to websites in other industries, but also has its own characteristics. The similarity is that the website functions are basically the same, and there should be company introduction, product introduction, product management, news center, contact us and other columns. But the difference is also obvious, that is, the interface design has its own obvious characteristics, namely simple and practical and atmospheric. Let me explain for you in detail.
In terms of function, the Chinese version of some foreign trade industries usually have standard website functions including company introduction, company honor, and organization settings; product display includes product classification and product introduction, new product listing, online order, product query; information center includes company Dynamic, industry information, customer feedback; the back-end management system includes product management system; order management system; news management system; user message; traffic statistics and some other systems; these are the standard functions of the website, of course, may be designed The industry is different. Some functions do not need or need to be developed separately. The above descriptions are just standard functions.
In addition to satisfying the functionality of the website, another important factor is the design of the interface. After all, the interface is the most direct for the user to interact. The design of the interface and layout can directly affect the user's psychology and desire to buy. In addition, this is a foreign trade industry, and there must be a difference between the design of the domestic website; in color matching, you can choose The light color and business style should be practically brief and easy to operate. This is the basic feature of the foreign trade industry.
In addition to the design of the interface and the overall function when creating a foreign trade website, another important aspect is the server factor and domain name factors. When choosing a domain name, try to choose the top-level domain name of .COM. In addition, the server is best to compare in the foreign trade country. Suitable, such as the US or Hong Kong server, can achieve a perfect user experience.