How to apply components and what are the application scenarios?
Views:0 Author:Site Editor Publish Time: 2016-06-29 Origin:Site Inquire
Through the \"application component\" function of the component, the components of the current page can be applied to other pages, because in principle they are the same component, so when editing/deleting the component on any applied page, the applied The pages will change together. This is the most essential difference between \"Application Components\" and \"Copy Components\". This function is often used in breadcrumb navigation, product classification components, article classification components, etc. Take \"Article Classification\" component as an example:

Put the mouse in the content area of ​​this component, the name of this component will appear in the upper left corner of the component \"Article Category\"-->> Then put the mouse on the component name, a row of buttons will appear on the right, one of them \"Application Components\"-->Click the \"Application Components\" button to pop up the Application Components pop-up box, where you can select the page you want to apply to, click \"Save\"-->> and then switch to be On the application page, this component usually appears at the bottom of the content area of ​​this page ---> drag this component to the corresponding position. Please note: After a component is applied to other pages, as long as it changes in any place, the applied page will be modified synchronously.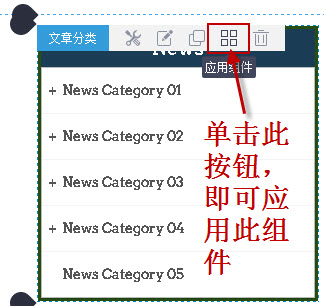 