How to add QQ, Skype, Email, Tel?
Views:0 Author:Site Editor Publish Time: 2016-06-28 Origin:Site Inquire
The purpose of adding QQ, Skype, Email, Tel on the website is to facilitate customers to contact you in time and fast reading. These contact methods can be fixedly displayed in a certain position, or can be floating display, and there are multiple display styles for you select.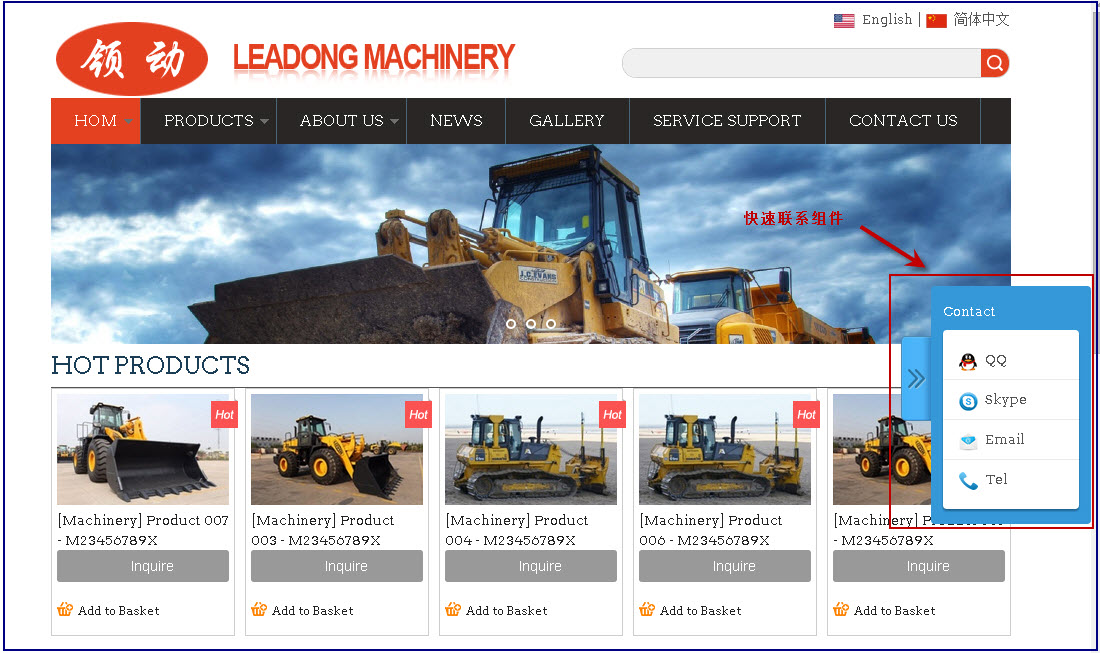 How to add contact information such as QQ, Skype, email, phone? Usually three steps are required:

1. Add this component on the page.

Normally, this information will be displayed on each page, and in order not to affect the loading speed, this component can be placed in the footer area.

The first step: find a location in the footer area, click the small water drop button, the add component window pops up, there is a \"Quick contact\" component in the basic component, click this component to add it;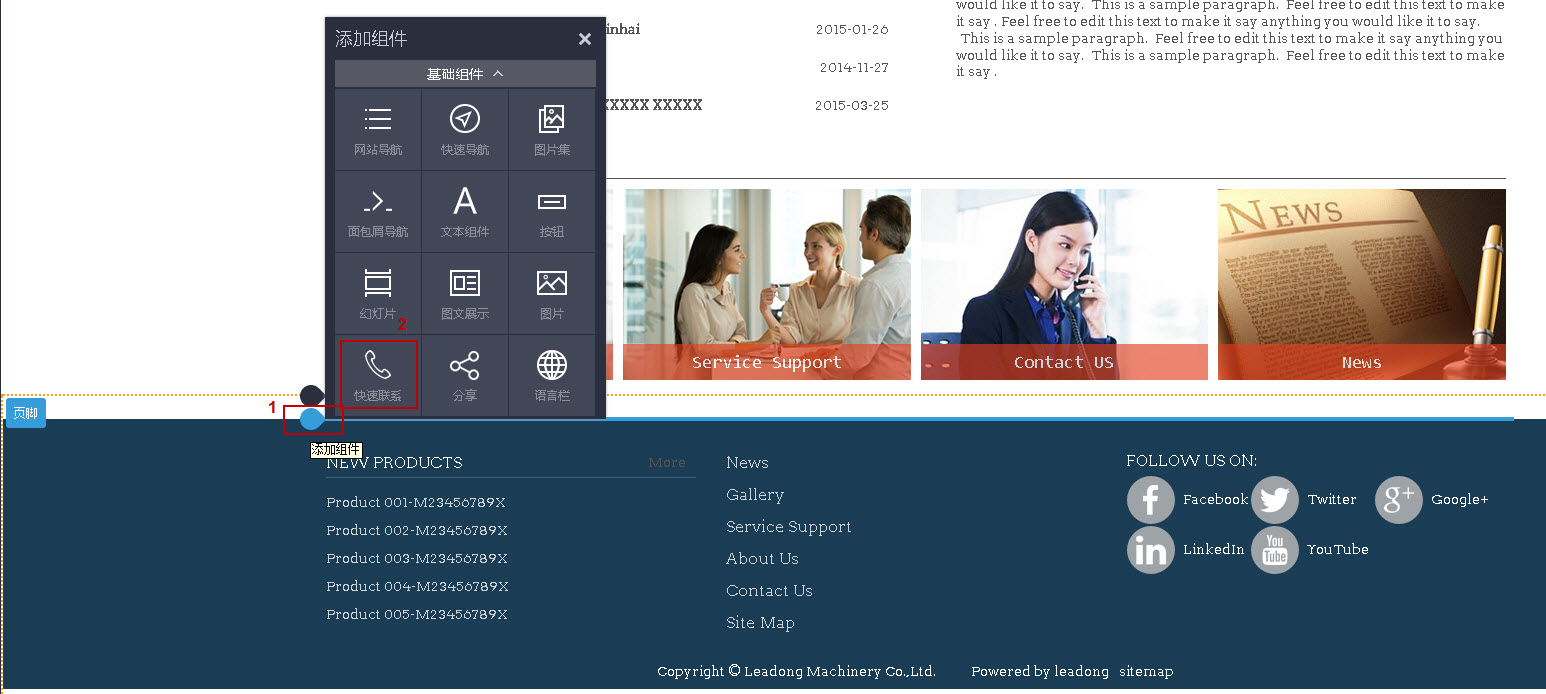 2. Add these contact information to the component.

The second step: the added \"Quick Contact\" component, the domain name in the footer is only a placeholder, find the placeholder for this component, put the mouse in the area of ​​Figure 1 below, then the gear icon appears, put the mouse on this icon On the right, a row of function buttons on the right appears, click the 3 settings button;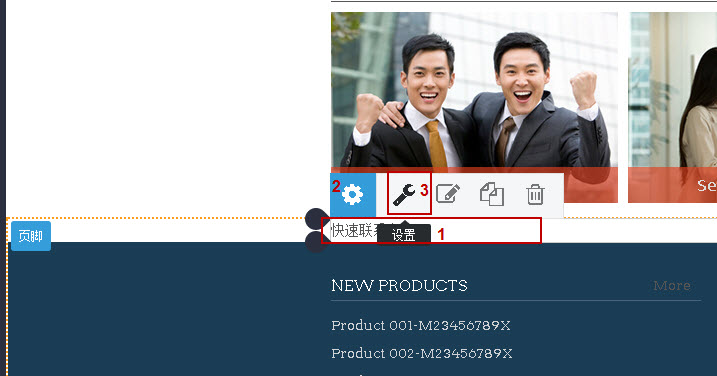 The third step: pop up the setting quick contact component window, where you can set the content and style of this component, by default in the content tab, enter the component title, and then click the \"Add a new\" button, in the newly added this In one entry, enter the contact information, account number, and displayed text; if you need to add more entries, click the \"Add New\" button to add.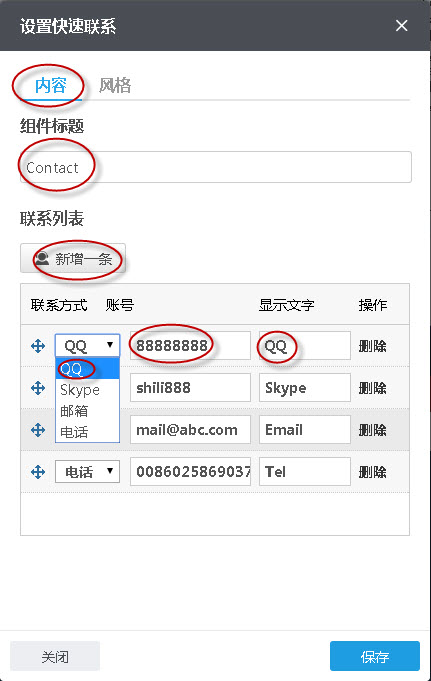 Step 4: Click \"Style\" to switch to the \"Style\" tab, select the style display style here, select the color, and then click \"Save\";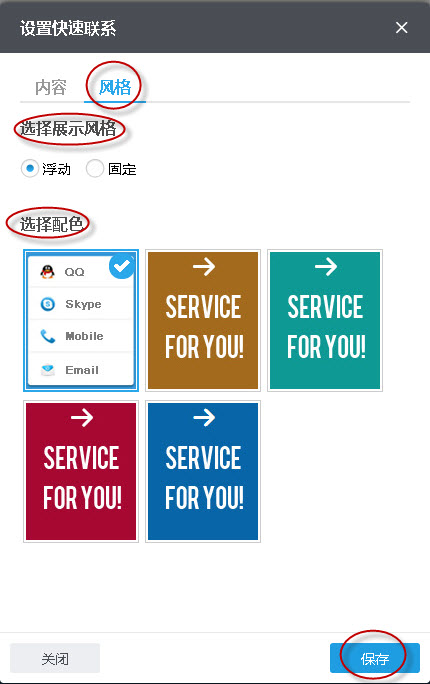 3. After the above steps are completed, click the \"Save\" and \"Publish\" buttons in the upper right corner. Click the Save button to save as the latest version in the background, and click the Publish button to publish to the front desk of the website.