Google's promotion method of Hebei foreign trade website
Views:0 Author:Site Editor Publish Time: 2016-08-17 Origin:Site Inquire
  Google promotion is a pay-per-use network promotion method. It can be said that it is an online version of the advertisement, which can bring a large number of potential customers to the enterprise with a small amount of investment, and effectively improve the company's popularity and revenue.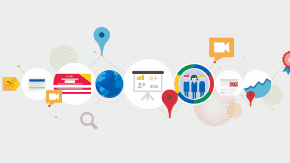 There are two main forms of Google promotion:
One is to advertise on your own foreign trade website, Google, mainly for bid ranking on the right. This is an advertising promotion method based on keyword ranking. When your potential customers search through certain keywords, your ads will appear on the right side of the search page. Under the promotion method of bidding ranking, when searching for information, netizens can be found by customers through the keywords submitted by the company, and directly link to the company's website, improve the site's page views and attention, and effectively improve the company's performance, sales, and products. The popularity of the brand and the rapid increase of the company's image and market share are a shortcut for the company to go to the world.
The other is advertising on affiliate websites. You may see advertisements provided by Google on other websites. These are Google's affiliate websites. On the affiliate website, your ads can be textual, pictures, or videos. Businesses pay for click traffic, and franchisees share this revenue with Google.
In short, Google promotion is a relatively cost-effective promotion method for foreign trade websites, and it is now accepted by many foreign trade companies in Hebei. Choosing the promotion method that suits you can create higher profits for foreign trade enterprises.
Shijiazhuang Rongchuang Media Co., Ltd. has 12 years of experience in international promotion of the website and is committed to providing the most professional and quality services for small and medium-sized foreign trade enterprises. Sunac Media looks forward to your visit.