[Function upgrade] New product recycle bin function | Optimize some functions
Views:0 Author:Site Editor Publish Time: 2018-06-05 Origin:Site Inquire
Hello everyone, we have some new feature updates this week, come and understand now!
new features:
1. Added the function of product recycle bin in the background.
【Application Scenario】In order to prevent users from deleting products by mistake, the product recycle bin function is added. Now, after the user deletes a product in the product management, the product will enter the product recycle bin; the user can choose to restore it or delete it completely in the product recycle bin.
[Operation method] Click the delete button in the background management product page, after confirmation, the product enters the product recycling bin;
Click the Restore Product button in the product recycle bin, and the product returns to the product management list after confirmation; click the Complete Delete button, the product is completely deleted after confirmation and cannot be restored.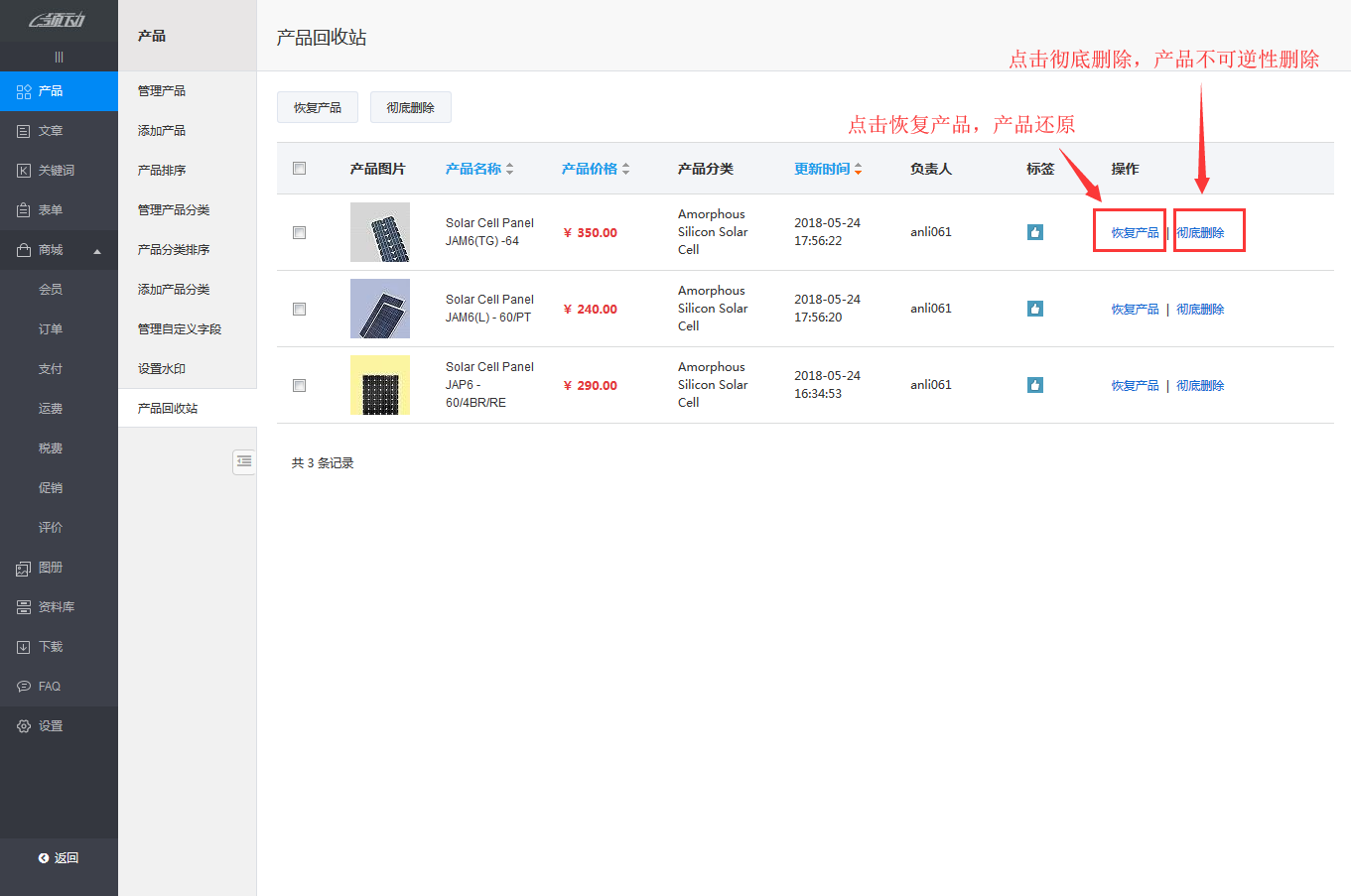 Function optimization:
1. As the sharing plug-in Jiathis of the Chinese website has been discontinued, it will be replaced with Baidu sharing after technical adjustments to improve the sharing speed and optimize the sharing process experience;
2. Optimize the input judgment logic of keyword setting for products or articles in the background, solve the problem of keyword duplication caused by inconsistent number of spaces, and facilitate users to add keywords accurately;
3. The recommended size is added to the picture editing window of the block, so that the user can upload the corresponding size picture according to the size;
4. After adding a VR display link to the slideshow component, a 360 rotation icon will be added to the picture, which is convenient for visitors at the front desk to click to watch and increase the number of website visits.