[Function upgrade] Added multi-picture display block|Advanced navigation added \"Equalization\" function
Views:0 Author:Site Editor Publish Time: 2018-01-27 Origin:Site Inquire
Hello everyone! This week we launched a lot of new features, come and find out!
new features:
1. The advanced navigation component adds \"Equalization\" function for first-level navigation
[Application scenario] Generally, users will have different lengths when naming the first-level navigation (especially in English and small language websites). The original fixed width and adaptive will appear different lengths of each navigation item, as shown below As shown:

In response to this problem, we have added \"Equalization\" function for the first-level navigation in the advanced navigation component. After setting the split function, the first-level navigation can evenly divide the width of the entire navigation, which has a good visual effect. In order to visually see the effect, we set a border for each navigation item. The effect is shown in the following figure:

[Operation Guide] Click Advanced Navigation Settings>>>Click Style>>>Click \"Edit\">>>in the selected style to set the width of the navigation items to be evenly divided, as shown in the following figure:

2. New video playback mode pop-up mode

[Application scenario] Some users do not want to play in full screen when viewing the video on the web page. Now you can set the video playback mode to \"\"pop-up mode\", so that it does not block the content of the website and chat tools and other interfaces.
[Operation Guide] Add video component>>>Set Video>>>Select \"Popup Mode\" for video playback mode to complete the setting, as shown in the following figure: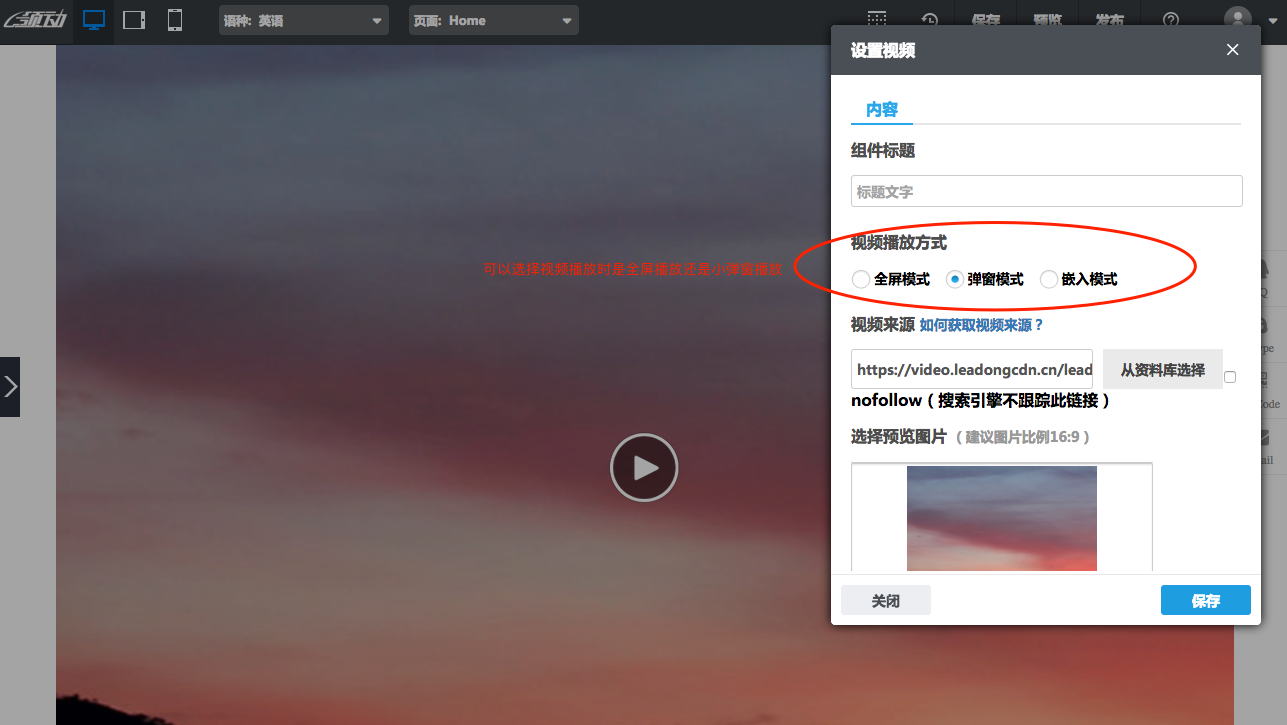 Function optimization:
1. Block deletion optimization, adding pop-up reminder to confirm deletion to prevent accidental deletion;
2. Some users cannot place orders at the front desk because the payment method is not set in the background, the optimized text reminder is not obvious, and a new \"No payment method\" red reminder is added;
3. Optimize SMO settings to remind friends, some users turn on the design sharing optimization function will cause users who cannot access the social platform to open the website slowly.
【important Notice! Welfare broadcast! 】
In order to allow everyone to better operate and promote the website, we specially provide benefits for \"enterprise marketing platform\" package users, and upgraded and opened some functions of the keyword assistant, including:
1. My keyword library, the keywords set by the user before will all appear in my keyword library, users can also import external keywords in bulk into my keyword library, you can clearly see each on the list What products and articles are associated with the keywords;
2. When adding products/articles, you can call the keywords in my keyword library, and the newly added keywords will also be automatically added to my keyword library;
3. Generate Tag pages based on product keywords/article keywords to increase the number of overall website pages, so that products/articles with the same keywords can be summarized from the keyword dimension;
4. Three new components related to keywords have been added to generate keyword index pages and keyword lists.
[Friendly reminder] Considering that the keyword Tag affects the layout of the website, not all users are willing to display it directly at the front desk of the website, so after this release, users need to log in to the background to manually turn on this feature. For detailed operation introduction of Keyword Assistant, please visit here:https://www.leadong.com/id534480.html