Before the training【Notice, Reminder】
1. Dear head of foreign trade
2017 How much have you completed the strategic layout of foreign trade network marketing?The network promotion effect is unsatisfactory, the B2BC platform is fiercely competitive, Google clicks cost is high and inquiry is low, how to crack? Sunac Media worked with LinkedIn and Leading to learn the countermeasures of online marketing strategies for foreign trade companies under the new situation of 2017, and use the new marketing model to fight against the Red Sea of ​​foreign trade!
2. LinkedIn + Microsoft
1:Integrate LinkedIn professional identity information and network in Microsoft Outlook and Office suites
2:Show LinkedIn notifications in the Windows Action Center
3:Support members to update their resumes in LinkedIn after writing resumes in Word, and find and apply for positions on LinkedIn
4:Expand the coverage of LinkedIn's corporate promotion content in Microsoft products
5:Finding LinkedIn information in Active Directory and Office 365
6:Embed LinkedIn learning content in Office 365 and Windows ecosystem
7:Develop a business news platform on the LinkedIn content ecosystem and MSN.com
8:Redefine social sales by integrating LinkedIn corporate sales accounts and Dynamics 365
3. Training Outline

Social media strategy-LinkedIn
Enterprise marketing platform-Lead
Change the passive destiny of the company \"Boy out to sea\" and create the company\"e-commerce carrier\"
\"Build\" base, \"expansion\" channel, \"channel\" enhance base value, \"base\" conversion\"channel\" value
4. Time schedule
Registration hotline:0311-67691129
training period:2017.11.11 (2:00-5:30 pm)
Training Location:1606, Block C, Internet of Things Building, Xinshi Middle Road, Shijiazhuang
City bus:36, 78, 368 Road Yucheng Community (city vocational education center) station get off westbound 300 meters north, 2nd ring 1 road, 2nd ring 2 road west second ring Xinshizhong Road station eastbound 300 meters north
After the training【Conference Summary】
1. Speakers
Guest Speaker Mr. Zhang Yingchun, Founder of Sunac Media, special lecturer on LinkedIn, entrepreneurship tutor and visiting professor at Hebei University of Economics and Business. He is good at foreign trade e-commerce, search engine, social media marketing research and implementation, and has more than 2,000 foreign trade companies with 15 years of practical experience and personally planning and implementing services.
Opening of the meeting:
Teacher Zhang analyzed the whole decision-making process of the enterprise from the buyers and decision makers who appeared above the water to the users/sponsors, judges, regulators and influencers hidden under the water.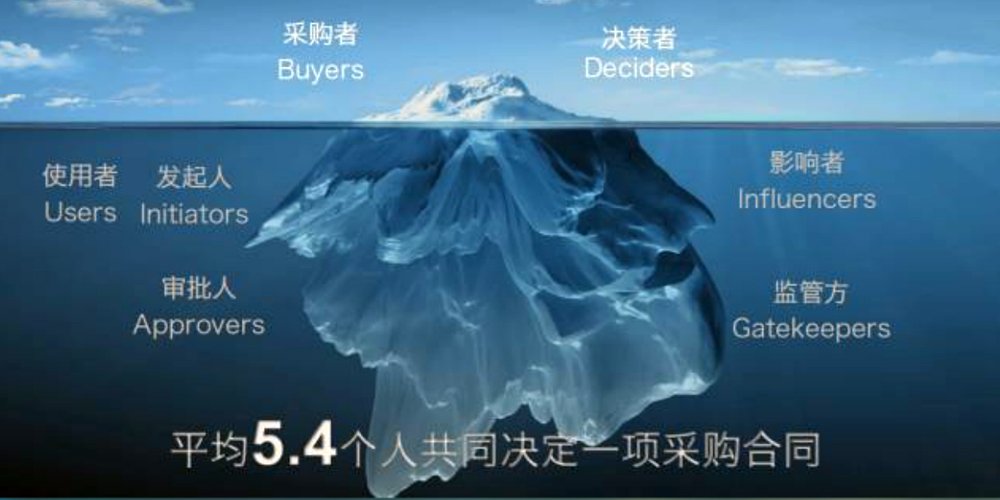 Afterwards, with Ali platform/Boss direct recruitment, HR recruitment phone plus WeChat Jianqun/Sales Jianqun positive energy affecting potential customers, Philippine urotropine procurement and other real cases, from procurement supply & social demand, advertising thinking & social thinking, goals The three dimensions of customers & target users share the transition from traditional thinking to new thinking, and are unanimously recognized by participating companies.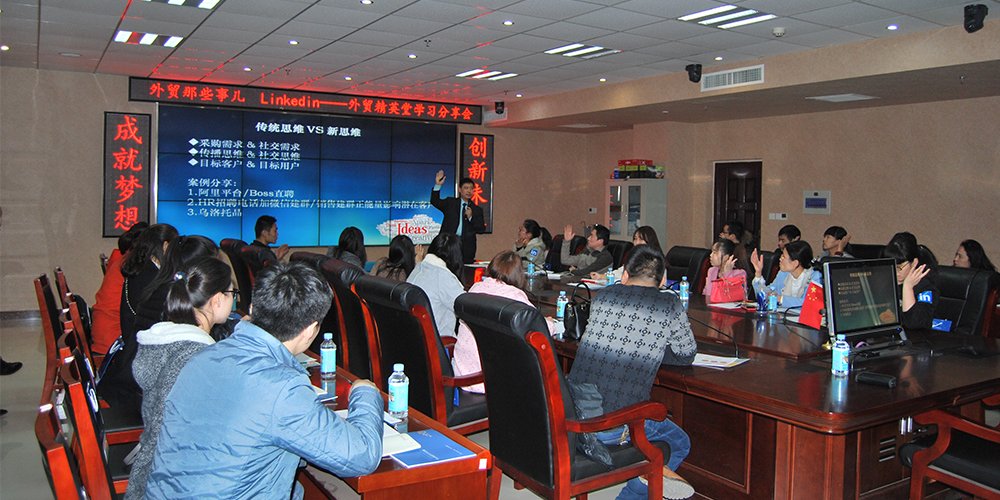 2. LinkedIn LinkedIn introduction

From the macro perspective of LinkedIn's development, government relations, user population structure and LinkedIn's several unique advantages, it helped the participating companies to clarify how B2B marketing models should choose social media suitable for their own companies, and also focused on the introduction of Microsoft+ LinkedIn product integration AI technology and talents will be the core areas of future corporate competition. 530 million global members and 36 million Chinese members are committed to creating a new way of business office!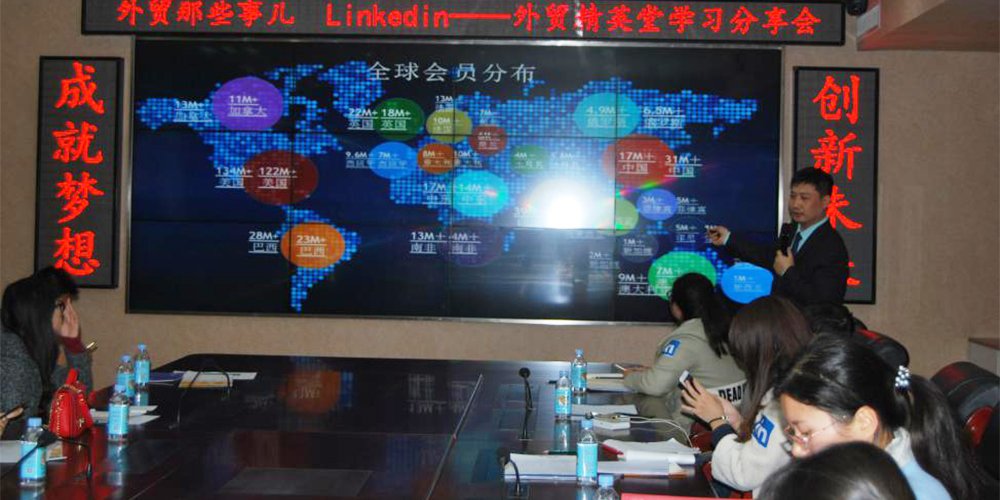 In view of the current status of the enterprise's LinkedIn free personal application is operated by time for space, and for enterprises, the cost of time is the biggest cost.
Teacher Zhang focuses on how to develop customers and protect customers from the perspective of LinkedIn's enterprise version paid account. Several sets of mysterious numbers help you unlock the difference between the personal version and the enterprise version, so that everyone can clearly understand the individual The various restrictions of the edition are completely open to the enterprise edition.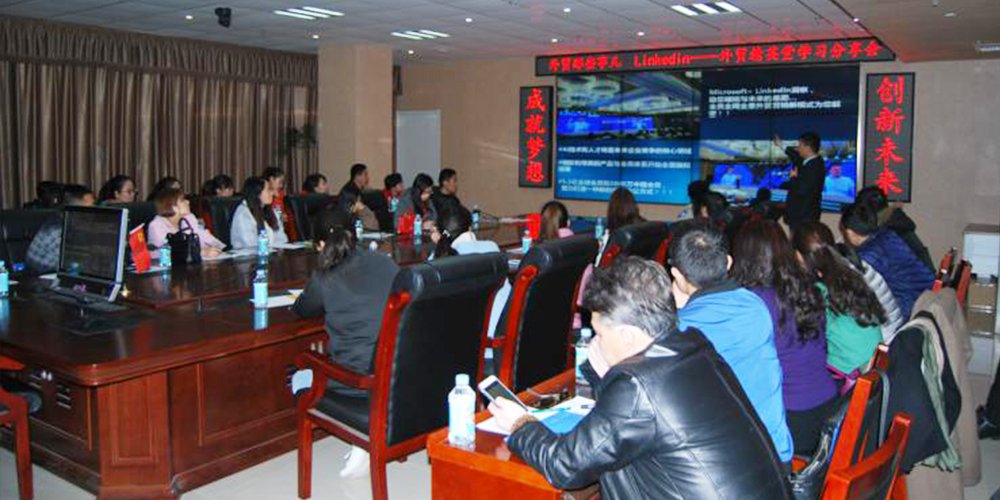 From the perspective of employees: explain in detail how to find customers on LinkedIn, how to import exhibition customer/customs data, etc. into LinkedIn accounts and activate to form strong links;
From the perspective of the boss: explain in detail how to talk about the resources on LinkedIn to form corporate fixed assets and how to protect corporate assets from being lost due to employee turnover.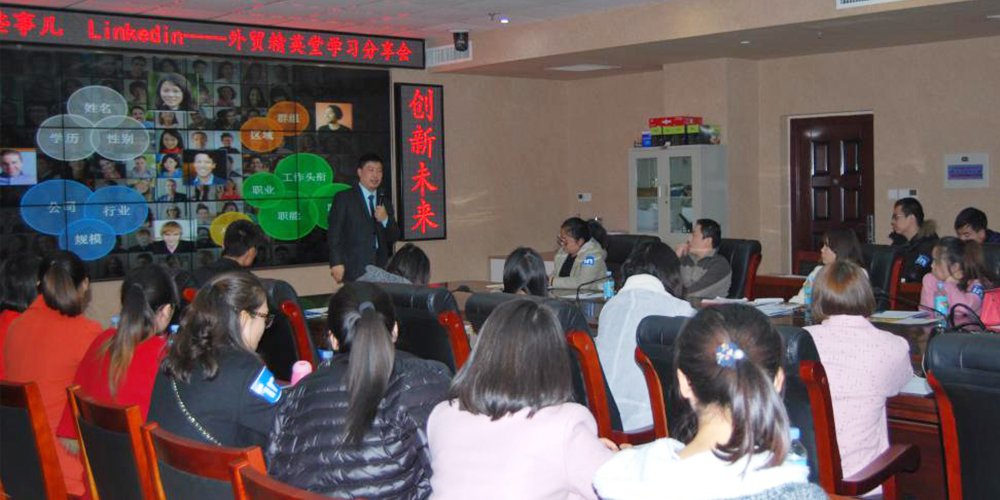 Because LinkedIn is the world's largest workplace social platform composed of high-end business people, Mr. Zhang explained the proportion of various contents when LinkedIn content was published, and the humorous cases made the laughter on the venue constant. , Applause, but also deepened the impression of the companies present.
In the analysis of the comparison between LinkedIn and traditional foreign trade promotion, everyone has a lot of feedback on LinkedIn's marketing methods, competition intensity, communication methods, trust level, affected objects, promotion costs, target groups, resource attribution, accuracy and communication power. With a deeper understanding. The use of LinkedIn will be an inevitable trend in the future development of the foreign trade industry.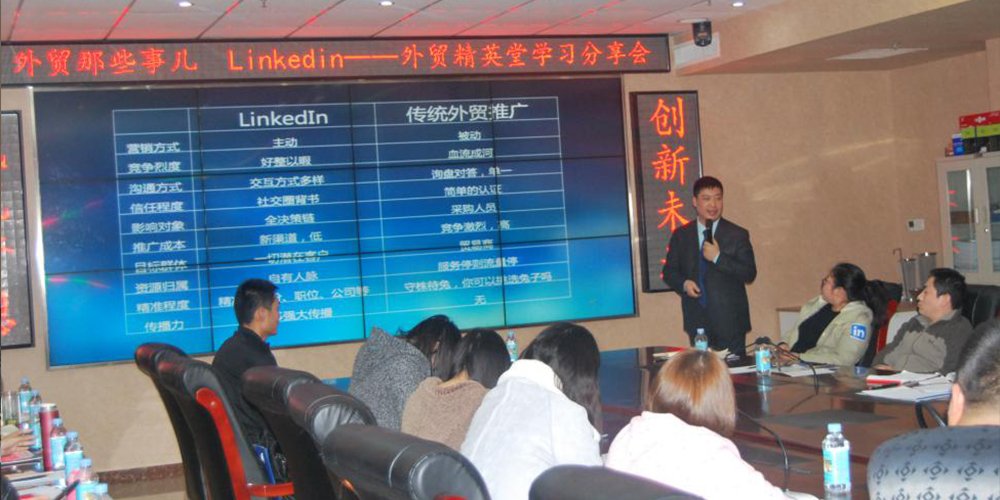 3. Introduction to social media SNS
With the development of social media, SNS has become a popular mode of communication among users. Teacher Zhang enlightened everyone from the analysis of users using SNS: website-associated social media will lay a solid foundation for more enterprise-wide marketing of all employees. When SNS meets Sunac Cloud, a powerful SMO function can manage social media accounts and support batch sending of pictures to Facebook, Twitter and LinkedIn. This powerful \"social assistant\" will become the best marketing tool.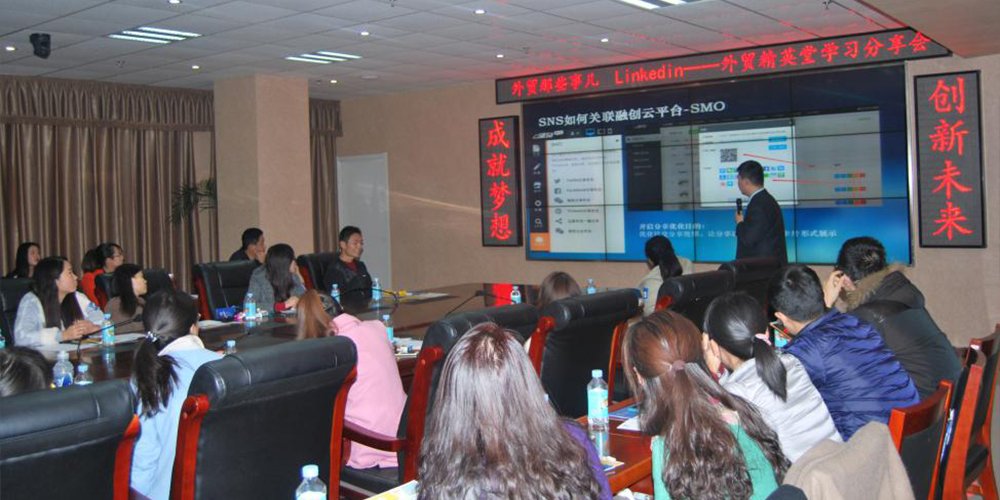 Fourth, the official website marketing strategy in the new situation
Corporate marketing website. The corporate marketing website is \"base\", and the marketing of business platforms, search engines, social networking, member emails, pictures and videos is \"channel\". By building \"base\" and expanding \"channel\" this vivid image description emphasizes the importance of corporate marketing website.Subsequently, starting from the essence of the marketing platform and the platform operation marketing plan, and combining the five functional characteristics of the enterprise Internet marketing platform, the elites present deeply recognized that the responsive cloud marketing platform can effectively help enterprises achieve marketing. Through teacher Zhang's professional explanation, everyone has a deeper understanding of the entire staff, the entire network-search engine, social media, B2B, panoramic-VR panoramic marketing new model, and showed great interest.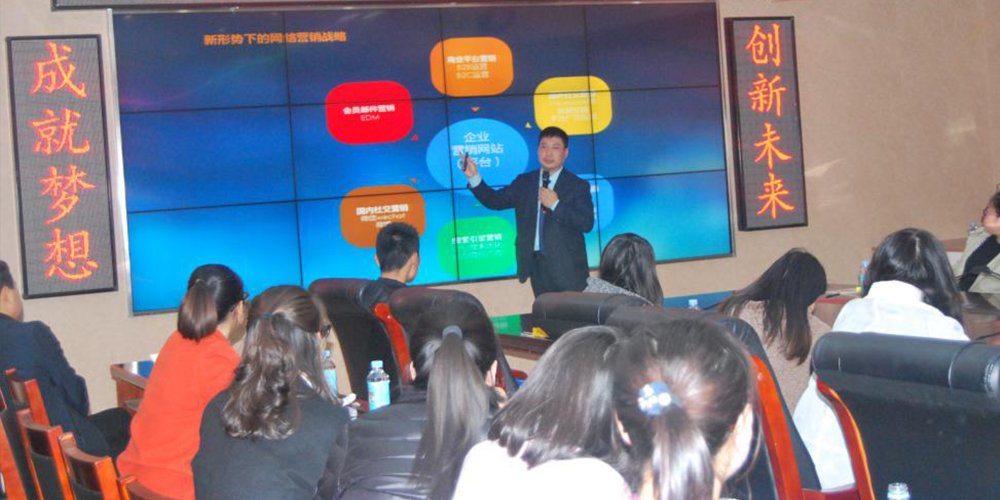 V. Advantages of Cloud Marketing Platform

five advantages: Powerful marketing management system, realizing the whole network of e-commerce from PC to mobile, domestic payment to international payment, inquiry management system, global multi-point deployment, 50 languages ​​marketing platform, leading to why companies need to create exclusive marketing platforms?
Comparing the number of keywords before and after the customer established a responsive foreign trade website, the trend of keyword inclusion and the number of inquiries, the answer to this question is obvious.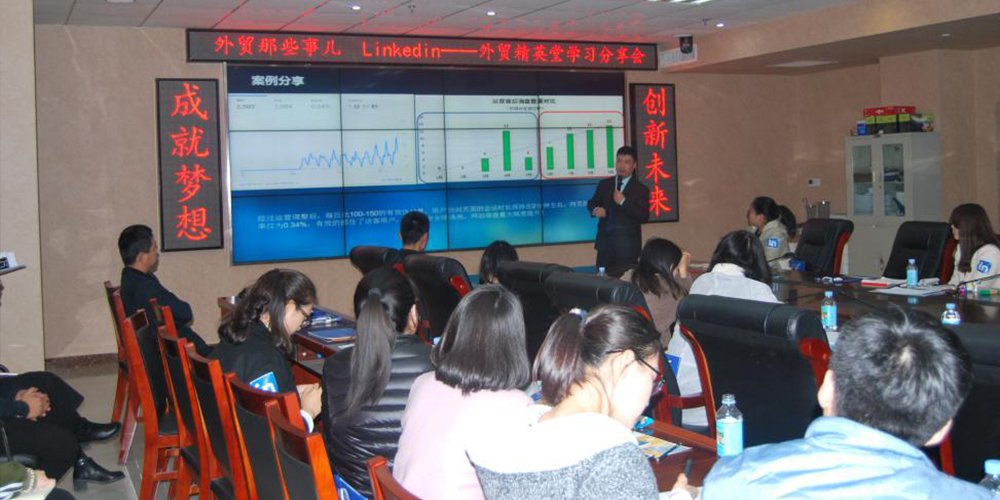 6. Summary of the sharing session
At this learning and sharing meeting, the foreign trade elites present at the meeting said they benefited a lot. Whether they are social media-LinkedIn or enterprise marketing platform-leading, everyone has a better understanding. We should warmly invite the participating customers and take a group photo with you. The foreign trade elites who came with enthusiasm and returned home after the training session.