In recent years, Facebook has become a very profitable e-commerce marketing tool. The advertising function of the social platform has existed since 2012, but in the past five years, Facebook's advertising and management functions have undergone major changes. You can even remarket on it, create custom audiences based on specific audience characteristics, or even create \"similar\" audiences.
In order to maximize the success rate of Facebook advertising, you need to understand some specific tools and practices. In this article, I will introduce you to some of the best practices of Facebook advertising to help you start using this marketing tool.
Preliminary preparations:
1. Create a BM platform, create an address:. Why create? The BM platform can manage multiple advertising accounts, homepages, pixels and other data at the same time, which is convenient for management. The technique of retaining Facebook pixel data mentioned before is also carried out in BM.
2. Prepare an advertising account: it can be a personal account or an advertising account created in BM. Advantages: Individuals can create and support credit card Alipay and other payment methods. Disadvantages: It is easy to be sealed. Once the sealed balance cannot be taken out, there is no official customer service support. If the economy and conditions support, you can find an agent to open an account.
3. Install Pixel
Facebook Pixels can track your advertising campaigns and can accurately understand the number of conversions your ads received. Let you know how much of your sales come from advertising traffic. At the same time, Facebook Pixels can also remarket based on the visitor's URL.

To set up your Facebook Pixels, you need to install the Pixel code on your website. First, go to the Ads Manager and click on the Pixels option. Select \"create a Pixel\", create a name, and copy the basic code. Please note that if you want to track certain user activities, you need to add specific event codes to the base code.
Install the code on every page of your website. If you are not familiar with coding, this can be a bit tricky. However, if you are using an e-commerce platform like Shopify and Pixel integration is almost semi-automated, then all you need to do is enter your Pixel ID into the settings. However, even if you are not good at coding, manual installation is still feasible.


4. What you need to know about FB advertising prohibited content
Start serving:
Before you start running FB ads, you need to understand the most basic items:
Ø FB advertising target
Ø Audience
Ø Budget
Ø Material
1. Choose your advertising goals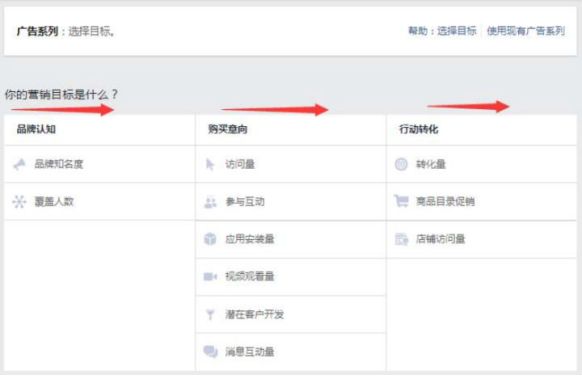 Before starting to run FB ads, you need to understand the most basic items, participating in interaction, conversion, and catalog promotion DPA.
2. Choose your audience
Before running your ad, or even starting to design your ad, you need to determine the audience you want to target. Facebook offers several different audience types:

Saved Audiences
If you want to target new customers who haven't visited your site, go to the Audience section of the Ad Manager, then select \"create audience\", and select \"saved audience\". After that, you can use specific demographics and interests to create an audience group that you believe will like your product. The cool thing about this feature is that you can get more details than expected, and you can target based on specific behaviors or interests. For example, if you sell car covers, then you can target people who have purchased cars in the near future. In fact, you can even target people who have recently purchased a particular model. Does this sound amazing? Other positioning options include income, age, location, relationship status, gender, and education.
Custom Audiences
Custom audiences are useful for targeting users who have visited your website. You can import a list of existing leads or customers, or you can target users based on the URLs of visitors who have visited your website; you can also create custom audiences based on app activity and Facebook interaction levels:
Similar Audiences (Lookalike Audiences)
Similar audiences are new potential customer audiences that Facebook automatically creates based on existing audiences. For example, you can use a custom audience of existing customers, and Facebook will help you find 2 million Facebook users who may be interested in your product.
3. Set budget and schedule
The budget is determined by factors such as the size of the audience, target conversion events, target conversion volume, commodity prices, and audience value.
The budget can be adjusted according to the degree of personal acceptance. There is also an example of a $5 daily budget for testing. After finding Winner, the Sclea ad group. Specific operations can go to the blog to read the previous article.
The advantage of scheduled advertising is that you can choose when to run it. For example, you can only run it during certain days of the week when the sales volume is relatively high, so as to improve your advertising efficiency.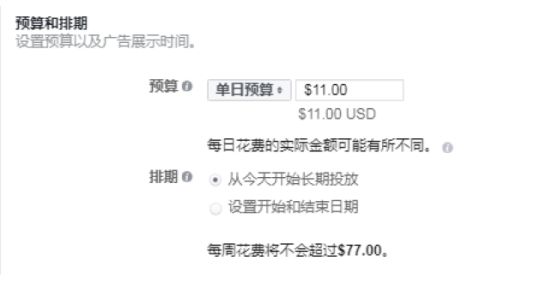 4. How to prepare creatives?
Commonly used creatives include pictures, videos, and carousels. Video ads are currently a type of interaction that is easier to obtain. Pay attention not to infringement of background music and video sources. Copywriting and materials are very important. It is recommended to refer to other people's advertisements to obtain high CTR skills.
Single video advertisement (Single Video):Similar to single image ads, single video ads allow you to display a single video. Video ads can be up to 60 minutes long, with a maximum capacity of 2.3 GB and a minimum resolution of 720p.
Carousel (Carousel):

This ad format allows users to scroll through two or more different pictures or videos as if they were browsing a gallery, so you can add more creative content than a single picture ad. But please note that these ads are still subject to 20% copywriting rules. Each image or video must be 1080 x 1080 pixels. Carousel ads are more suitable for displaying multiple products or product versions in one ad.
Slideshow

: Similar to carousel ads, slideshow ads allow you to cycle through multiple ads and pictures. The difference is that they are scrolled automatically, not by the user. You can add up to 10 videos or images, and your ad can only be displayed for up to 50 seconds.
Canvas ads

: Canvas ads allow users to cycle through multiple pictures or videos, but such ads are full-screen, immersive ads, not just ads that appear in users' news feeds. Canvas ads are very suitable for adding a movie texture to your ads, but please note that it only applies to mobile ads.
5. How to analyze advertising data
There are up to 145 items of data for FB ads. At the beginning of the launch, you need to focus on the following 7 indicators:
CPM

CPC

CTR

ROAS

Negative feedback

Relevance score

frequency