Attention foreign traders! The content of the 127th \"Online\" Canton Fair is confirmed!
Views:0 Author:Site Editor Publish Time: 2020-04-11 Origin:Site Inquire
On April 7, the executive meeting of the State Council decided to hold a meeting: The 127th Canton Fair was held online in the middle and late June.
On April 10, the Joint Defense and Joint Control Mechanism of the State Council held a press conference on measures related to stabilizing foreign trade, and gave an introduction on the \"online\" Canton Fair.
Key points:
\"Canton Fair\" How will it be held? What are the main contents?
Form 1: Establish an online display docking platform
25,000 exhibitors from the Canton Fair will be online for display and set up according to the original physical exhibition that everyone is familiar with.Divided into export exhibition and import exhibition, set up corresponding exhibition areas respectivelyAmong them, the export exhibition will be divided into 16 categories of commodities according to electronic appliances, daily consumer goods, textiles and clothing, medicine and health care, and 50 exhibition areas will be set up respectively; the import exhibition will set up 6 major themes such as electronic appliances, building materials and hardware,All exhibits go online at the same time. At the same time, strengthen supply and purchase matching services, hold special online matching activities, increase online matching efforts, and enhance the effectiveness of organizing exhibitions.
Form 2: Set up a cross-border e-commerce zone
An event with the theme of \"Synchronous Canton Fair and Global Business Opportunities\" will be held. Through the establishment of exchange links, online business activities will be carried out at a unified time in accordance with the unified name and image established by the Canton Fair.Mainly cooperate with B2B platform, and take into account some B2C platforms. It mainly includes two parts:
The first is to set up the topic of cross-border e-commerce comprehensive trial zone, publicize the work of each comprehensive trial zone, and recommend a batch of cross-border e-commerce brand enterprises.
The second is to select a batch of cross-border e-commerce platforms, highlighting the \"business-to-business\" trade show characteristics.
Form 3: Provide live marketing services
Will be establishedWebcast columns and links, Set up separately for each exhibitor10×24 hours online live broadcast room. This live broadcast room is not limited by time and space. The company can not only conduct face-to-face negotiations with customers online, but also promote and promote a large number of merchants through online broadcast.
Since 2020, affected by the epidemic, China's foreign trade has faced severe challenges that have not been seen in many years. Foreign trade companies generally face many problems such as cancellation or extension of orders and difficulties in signing new orders. According to statistics from the customs, from January to February in the outbreak of China, the total value of imports and exports of Chinese goods trade was 4.12 trillion yuan, a year-on-year decrease of 9.6%. Among them, exports were greatly affected, with a year-on-year decline of more than 17.2% (in US dollars).\"Canton Fair\"Change\"Net Fair\"Not only a new model but also a new pattern of the foreign trade industry in the future!
Online exhibition is an inevitable trend!Unlike in the past, foreign trade companies no longer need to prepare a large number of business cards, brochures, etc., \"Online\" to display corporate image and product details becomes very important for foreign trade companies.
The impact of the epidemic will continue for a period of time. The sooner the online layout, the online marketing ability, the stronger the ability to deal with risks. At that time, whether the exhibition is canceled or online is irrelevant to the foreign trade industry. We rely onVR panorama technology creates an online exhibition solution for small and medium-sized foreign trade enterprises, and solves the needs of foreign trade enterprises from selling pictures to selling experience through \"virtual exhibition hall\".Video, 3D animation and live broadcast can all be realized in \"Exhibition Hall\"!
① Scene switching, more attractive than traditional pages;
②Product replacement and 3D display in the exhibition hall;
③In-depth interaction using modules such as voice, remote control, and Internet of Things.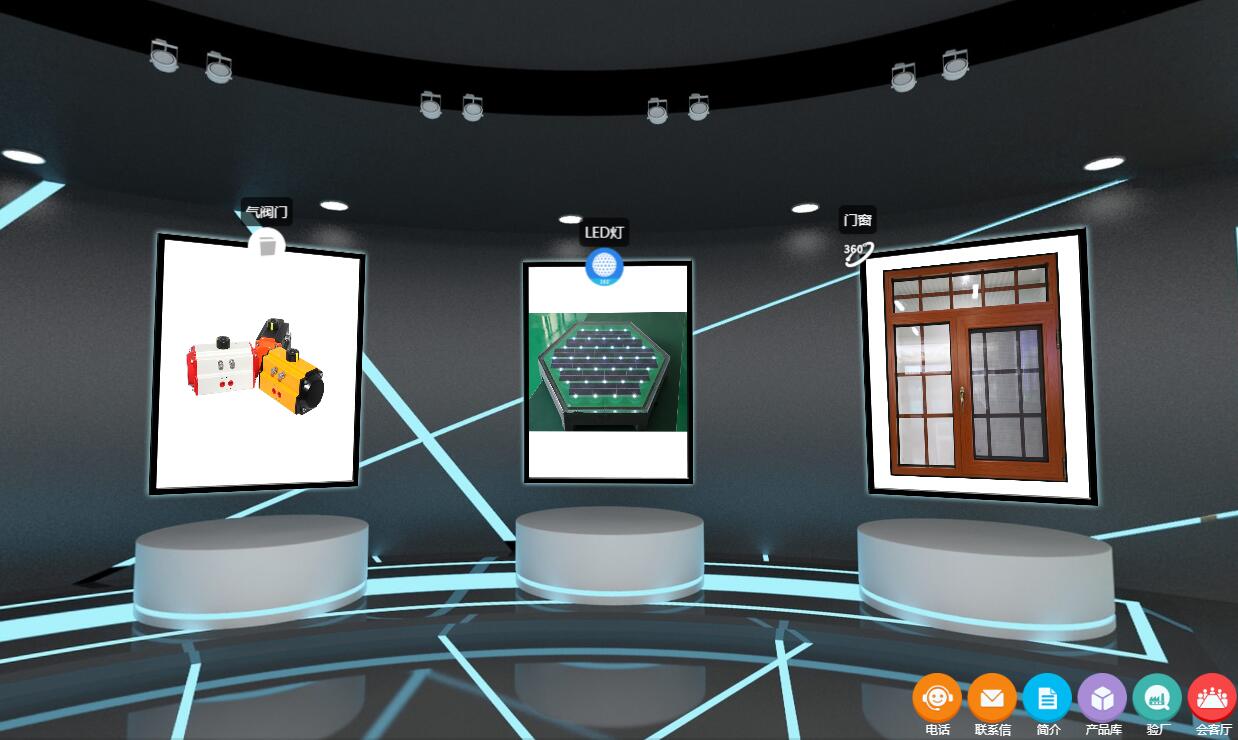 The tremendous changes that the epidemic has brought to the world economy have already begun to show.\"The era of online exhibition marketing\" is here! are you ready?