Advantages of network-wide marketing
Views:1 Author:Site Editor Publish Time: 2016-07-25 Origin:Site Inquire
Network-wide marketing is an essential tool for marketing in this era, and an innovation and breakthrough in the entire media industry. So what are its advantages compared to traditional marketing methods?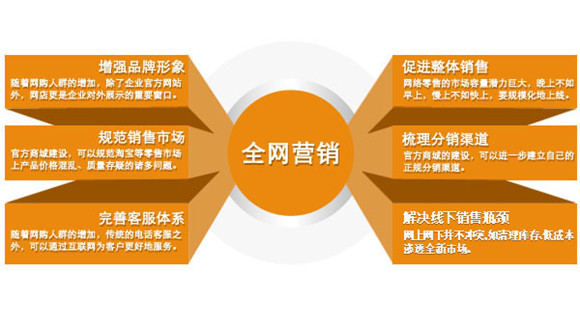 1. Improve brand image and popularity. Network-wide marketing is conducive to the speed of brand publicity, establish a brand image, and help expand brand awareness.
2. Precise marketing, reduce marketing costs. Network-wide marketing and social media sharing through web search, image search, and so on can expand publicity efforts and reduce publicity costs.
3. Regulate the sales market and solve the problems of price confusion and quality insecurity in the market.
4. Sort out distribution channels, build official websites, and further establish their own regular distribution channels,
5. Improve customer service system and improve user experience. Through network-wide marketing, we can provide customers with quality services, understand user needs, and improve user experience.
6. Enhance the stickiness of customer relationship and cultivate customer loyalty.
7. Solve the bottleneck of offline sales and promote the overall online and offline sales. Such as clearing inventory, low-cost development of new markets, etc.
Shijiazhuang Rongchuang Media is committed to optimizing the construction of foreign trade websites and providing you with quality network-wide marketing services. If you are interested or in need, please contact us at 400-0430-678.