Q: What is the 35 corporate contact plug-in? What can meet the needs of customers?
A: The 35 Corporate Contacts plugin is suitable for users who use an email client. Through this plugin, they can synchronize their personal contacts, corporate contacts, external corporate contacts, and group mailbox lists on the web side when sending emails. You can select the contact to send, the contact list can be
Synchronize with the contact system in real time.
Q: What client software is compatible with the 35 Enterprise Contact Plug-in?
Answer: At present, 35 enterprise contact plug-ins are compatible with the mainstream versions of Foxmail and Outlook (the client accounts for more than 90% in our company).
Q: Does the 35 Enterprise Contact Plug-in still need to log in to EQ to use?
A: After our efforts, the current contact plug-in can be used normally without logging into EQ.
Q: Does the 35 Enterprise Contact Plug-in need to be distinguished by the number of operating systems to install?
Answer: No need to distinguish!
Q: How many emails can I choose?
Answer: The upper limit of the client is 1000 addresses, so we can choose 1000 addresses!
PS:
If the client cannot be recognized after installing the plug-in under XP system, mainly because the operating system lacks some key files, you can try to use the following repair package.
Contact plugin fix pack
How to use the contact plugin
Please note before installation: 1. Make sure to install with administrator rights; 2. Uninstall the old version of the plug-in completely to avoid the new plug-in from being used; 3. Close the running mail client, and you will be prompted during the installation process when it exists .

After the installation is complete, Foxmail is used as an example to show how to use it.

1. Log in to your corporate email contact.

Open the Foxmail program and select \"Write Mail\"->\"Recipient\". A menu will pop up to indicate that the plug-in installation and startup are normal. Click \"Select Corporate Mailbox Contact\", when you log in for the first time or do not set automatic login, a login box will pop up, please enter the user name and password of the complete mailbox to log in.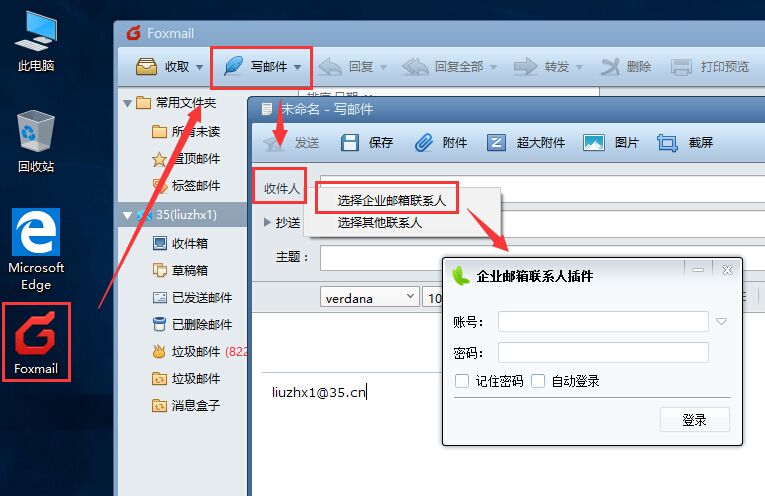 After successful login, the window will be hidden. Select \"Recipient\"->\"Select Corporate Mailbox Contact\" in the new mail window. The main window will pop up. The synchronized contact information includes personal address book and company List of contacts, external corporate contacts and group mailboxes.




2. Main operation

Open the main window and display as follows:


| | |
| --- | --- |
| Numbering | Explanation |
| 1 | Click to add the left group of contacts to the middle list |
| 2 | Single-select or multi-select contacts (mouse click and drag to select multiple, Ctrl+A to select all) |
| 3 | Add the contact in the middle list to the corresponding sending field |
| 4 | Confirm the selection and fill in the selected address in the corresponding address bar of the email client |
| 5 | You can enter a keyword to search for a contact, and select it through the drop-down box |
| 6 | You can clear the selected contacts in the middle list |
| 7 | Can switch login account |


The selected contact will be added to the corresponding address bar