Today's big event
127Canton Fair
1 day countdown!
Exhibiting various foreign trade companies
Are you ready?
Come take a look at the precautions~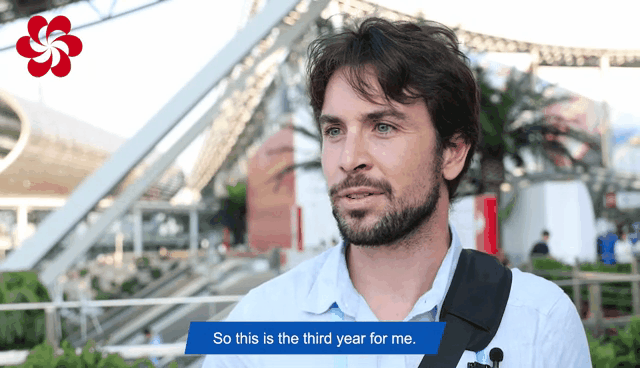 1. When will it be held?


6月15day-24On-line, exhibition period10天


Press for this Canton Fair16Major product settings50Exhibition area, all exhibits are in6月15day-24On-line display during the same period of the day, exhibition period10day. Up to now, exhibitors have used pictures, videos,3DUpload exhibits in other formats and display the brand image in multiple forms and dimensions.

2. How to prepare for the online Canton Fair?


The official website is upgraded to integrate online display, promotion, supply and purchase docking, and online negotiation.

The official website of the Canton Fair has five major sections: exhibitors' exhibits, news and events, global supply and procurement, conference services, and cross-border e-commerce zone. From\"Face-to-face communication\" becomes \"screen-to-screen communication\", providing exhibitors with a brand new experience in exhibiting.

\"Exhibitor Exhibits\"It is a platform for enterprises to upload exhibits. Enterprises can upload products through pictures, videos and other formats, or they can choose a display template that suits them.VRVirtual booth, build an exclusive display center. Buyers can inquire about products or enterprises and visit the virtual booths of enterprises.

\"News and Events\"Scroll the news and exhibition information to enhance real-time and interactive experience. And provide live marketing services, set up for each company10×24All-weather online live room.

\"Global supply and docking\"Provide honest background information for both parties to the transaction, support exhibitors and buyers to publish supply and demand information, and strengthen online matching. And provide links to some video conferences and social software to facilitate the use of both parties.

\"Conference Service\"Provide trade support, customs and finance and other supporting services for exhibitors.

\"Cross-border E-commerce Zone\"与105Cross-border e-commerce comprehensive test area and6A cross-border e-commerce platform establishes links, simultaneously launches marketing activities, and expands the benefit of enterprises.

3. How to invite buyers?


Global key markets have been held23Field \"Cloud Promotion\"

The official of the Canton Fair has started the promotion and invitation work worldwide, pushing the latest information to fans through social media, sending email notifications to the old buyers, and carrying out promotion invitations in all aspects and at various levels. At present,73Countries130Global partners, multinational procurement companies and important customers are invited to publicize.
In addition to official drainage, what other ways to attract customer attention?
Drainage node:
①6月15日-24Japan Canton Fair, Follow the online exhibition mode of Canton Fair, followFBIn the form of live advertising, pay attention to whether the Canton Fair provides welcoming customer benefits, and attract customers with the same drainage methods.
②One month after the exhibition,Acquire customers at different peaks, place advertisements such as remarketing advertisements, and continue to promote them to users who have been to the site to speed up the subsequent conversion of participating customers.
Drainage channels:
①GoogleadBuyers will definitely search the relevant keywords of the online Canton Fair on the search engine. Companies can use Google advertising to display information about the company's exhibition halls and now attract clicks to enter the exhibition halls.
②FacebookNew landing page for advertisements during the online Canton Fair, before the start of the Canton Fair10Days to the end10Days of interest to people interested in the exhibition to pull new and remarketing advertising.
③BuildYouTubeEnterprise Channel, Uploading a slightly higher quality product production and manufacturing process video will attract more visitors to click.

4. What should be paid attention to during the live broadcast?
①Exhibitors' live broadcast rooms do not provide video linking function.
②If you want to play the pre-recorded video in the live broadcast room, you can play the pre-recorded video on the computer arranged by the enterprise and broadcast the screen content through the third-party push streaming software downloaded in advance. After the playback is completed, the system will automatically generate a playback video.
③Exhibitors' accounts can watch live broadcasts through the live broadcast lobby, and can enter their own live broadcast room from the live broadcast assistant port to reply to comments.
Live streaming
①Cases can be used in live events to tell corporate and product stories.
②Live talk mode can adopt flexible modes such as single talk and double talk.
③Answer questions from the audience during the live broadcast in time. Questions related to products and technologies are suggested to be answered by professionals, which helps to win the trust of customers.
④Attach great importance to diversion and customer acquisition:
aMaintain old customers
Enterprises can notify their regular customers of the live broadcast plan in advance, invite them to watch the live broadcast at that time, and formulate a priority online reception process for regular customers, prepare special reception staff, and provide timely and professional online feedback services.
bExplore new customers
In the live broadcast, you can attract new customers to leave contact information through various methods such as gift giving and samples, and arrange business personnel to record the characteristics and needs of the new customers and follow up in time.
Direct notes:
①How to improve the live marketing effect of exhibitors
https://www.cantonfair.org.cn/news/article/5edf138da5d2542943610083
②Guide to operation of live broadcasting room of exhibitors in Canton Fair
https://www.cantonfair.org.cn/news/article/5edf15240676334d84510c96
Fives,How to use instant communication tools?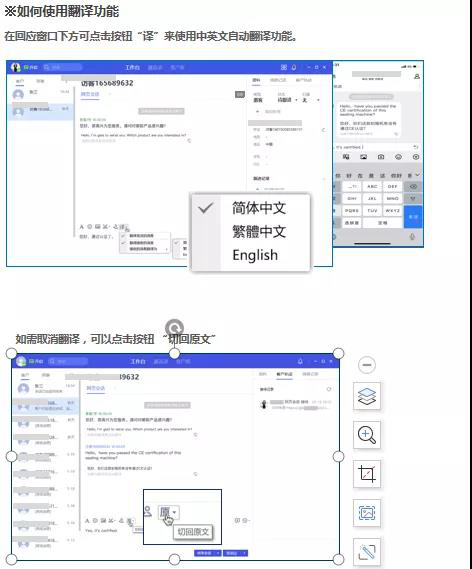 six,How to complete the appointment negotiation?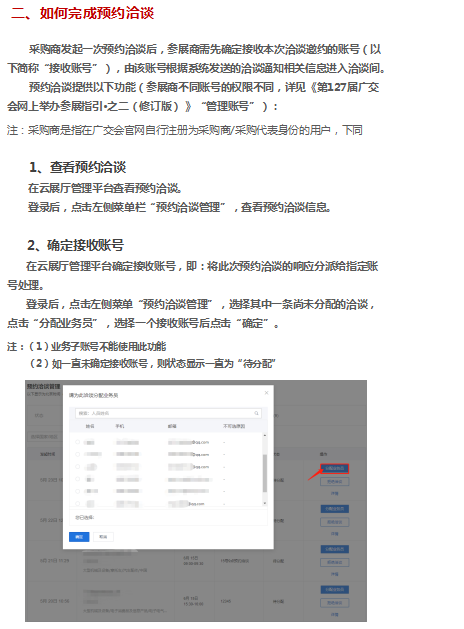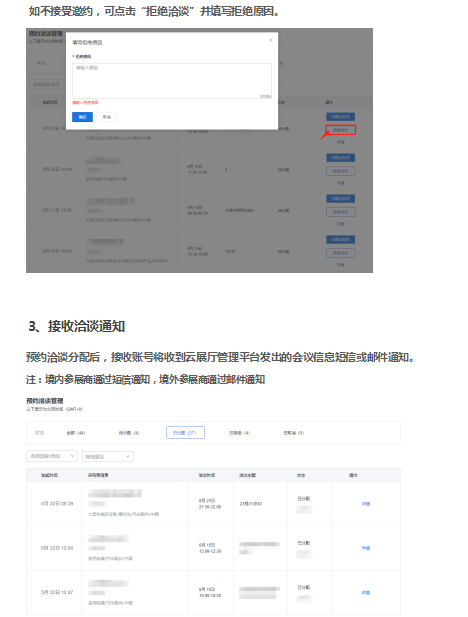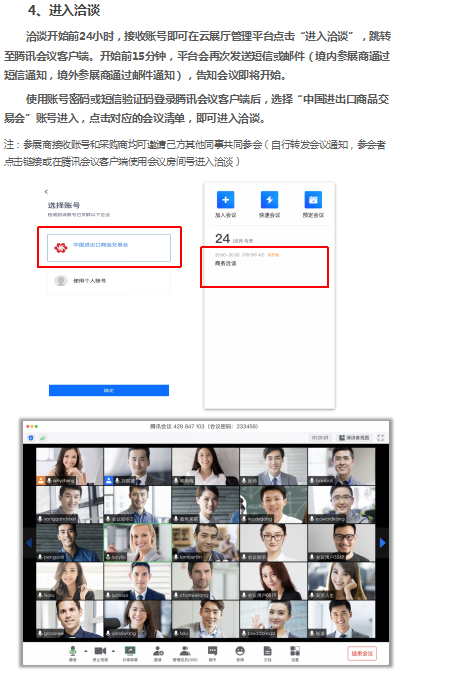 Direct operation guide:
Canton Fair Exhibitor Online Platform for Supply and Docking Guide
https://www.cantonfair.org.cn/news/article/5edf2fd2c97cb9416438c8c7
7. What should I do if I have a complaint?


on-line+Combining offline mode to handle complaints
The current Canton Fair was established\"on-line+Combining offline mode to deal with complaints. Before the exhibition, strengthen the awareness of intellectual property protection, strengthen prevention and control by issuing exhibition guidelines, self-examination and self-correction of the trading group, and curb infringement at the source and prevent trade disputes.

Build at the same timeOnline complaint handling platform. Registered users of the official website of the Canton Fair can go throughPCComputer-based online filing of intellectual property rights complaints, appeals and withdrawal applications is convenient for rights holders to protect their rights.

Continue to invite experts from government departments such as patents, trademarks, and copyrights to enter the complaint reception station of the conference offline, provide support in the background, and make professional judgments on intellectual property complaints.Professional arbitration institutions are invited to provide online remote mediation services for both parties to trade disputes.
❤I wish all exhibitors success! ! !